Rare Snow Leopard Gets High-Tech Surgery -- for Kidney Stones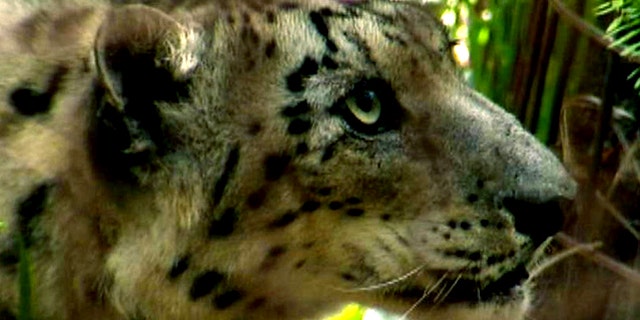 NEWYou can now listen to Fox News articles!
"Cloe," a 13-year-old snow leopard, had developed a kidney infection and had large kidney stones. But traditional surgery was out of the question, reports MyFoxTampaBay, thanks to the sheer size of the stones.
What's a snow leopard to do? Turn to high tech shock-wave treatment, it turns out.
The cat's caretaker, veterinarian Lynn Wynn with Tampa's Big Cat Rescue, called the Animal Medical Center, a renowned animal hospital and research center in New York. She says once the vets there heard Cloe's situation, they volunteered a team to fly down and treat her.
"The team was very excited when they knew it was a snow leopard. Everyone was willing to help when they knew it was a snow leopard," Wynn laughed.
The procedure Cloe would undergo is called lithotripsy, a non-invasive treatment that uses an acoustic "pulse," or shock wave, to break up the stones.
the team at Big Cat Rescue arranged for endoscopy equipment from a company in Georgia. Then a company in Tampa donated the use of the actual lithotripsy machine, and the staff to help run it.
Once all the equipment and people were lined up came the task of sedating Cloe and getting her from her lair to Big Cat Rescue's on-site hospital.
Wynn says the beginning of the surgery was tense. But once they saw Cloe was doing okay under the anesthesia, the rest went smoothly. Wynn said the kidney stones broke up, and the next day, they saw evidence the procedure had done what it was supposed to.
"We found little tiny stone material in her first urination the day after her procedure," Wynn said.
Now Wynn says she will analyze the stones, recheck Cloe in a couple of months, and make any necessary adjustments to hopefully keep Cloe from getting the stones again.
She says Cloe's prognosis is good; she is likely to live into her late teens.
"We're going to slow the progression of her kidney disease by doing this, so we would expect her to live out a normal life expectancy of a snow leopard in captivity," Wynn said.
Read the full story at MyFoxTampaBay.com.