Extremely rare 'open' beehive in Virginia stuns wildlife expert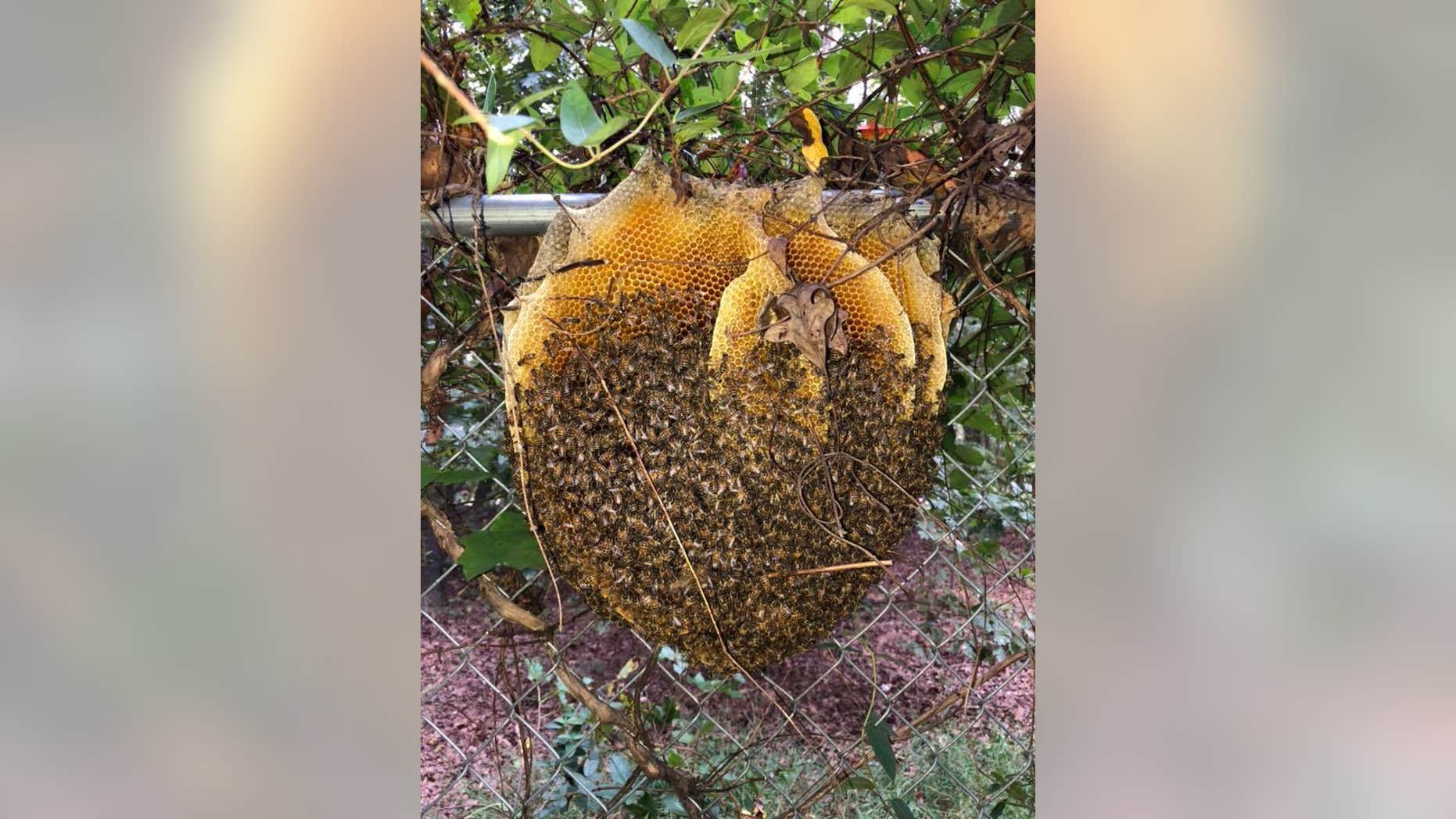 A huge "open" beehive outside a Virginia church may be the discovery of a lifetime for at least one wildlife expert. A groundskeeper was doing yard work when he stumbled upon the massive colony of Italian honey bees hanging off a chain-link fence last week.
The maintenance worker alerted officials at Victory Tabernacle Church of God in Midlothian who then reached out to the Virginia Wildlife Management and Control for assistance. Owner Richard Perry, who responded to the call, was shocked to find the swarm of unprotected bees.
"I've never seen anything like it and I've been in this business 39 years," Perry told the Charlotte Observer. "To be completely honest, I have no answer for what caused it, since we've never encountered it before."
TENNESSEE 'BEE WHISPERER' REMOVES 35,000 HONEY BEES FROM BRICK WALL
It's extremely unusual for bees to expose their hive, though beekeepers told the newspaper it typically occurs in parts of the country with more temperate climates.
"The bees had some shelter with the above trees and they are much more resilient than you think," Nicole Palladino, who works with California pest control service Bee Catchers, Inc., told the Observer.
Perry and beekeeper Bronwyn Ziegler extracted the entire hive Wednesday night to protect it from the strong winds and heavy rain from Hurricane Michael. The pair relocated the hive to their 12-acre property in Powhatan County, where they plan to monitor and protect the honey bees throughout the winter.
"The hive is lacking honey and the bees appear very weak ... if everything goes well, we can get it back to where it needs to be," Virginia Wildlife Management and Control wrote on Facebook, while sharing nearly a dozen photos from the scene.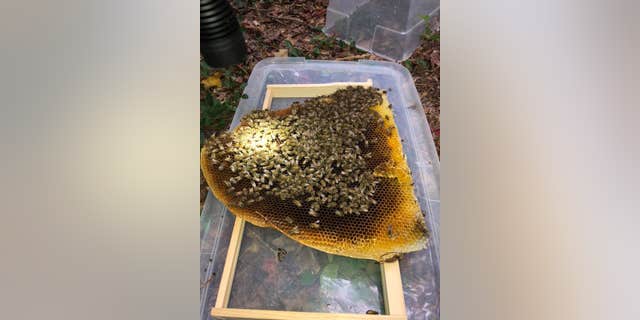 The agency later posted a video of officials removing and transferring the colony to a hive box. The minute-long video has been viewed nearly 17,000 times since it was posted on October 7.
BEES BRIEFLY CEASED TO BUZZ DURING TOTAL SOLAR ECLIPSE, STUDY FINDS
"This is AWESOME!! Thanks to everyone for their hard work and dedication to saving them," one local commented on the post.
"Thanks for doing the right thing and saving this colony! our bees have more to deal with than they can handle! Wonderful response!" another wrote.
"We need to save all the honey bees we can," one woman agreed.
Perry said Pastor Sam Luke at Victory Tabernacle Church of God agreed to welcome the colony back to its property when they're deemed healthy and the conditions are more favorable.
"If everything goes well, we can turn (the bees) back over to Victory Tabernacle Church of God, where they can take the task of raising them," Perry said.
Italian honey bees, which are identified by their yellow-brown and dark brown stripes, were the first domesticated species of honey bees brought to North America, according to the Canada Agriculture and Food Museum. This specific type of honey bee is able to maintain a large population because of their ability to adapt to a variety of climates.