Tennessee 'bee whisperer' removes 35,000 honey bees from brick wall
A bee removal expert in Tennessee is making quite the buzz after extracting an estimated 35,000 honey bees from a brick wall.
David Glover, the self-described "Bartlett Bee Whisperer," was recently called to a Germantown home to remove the bees. Glover told Fox News on Friday the homeowner, whom he did not identify, is allergic to bee stings and had previously hired a local pest control company to remove the creatures — but to no avail.
NORTH CAROLINA WOMAN SAYS FIRE ANTS 'EXPLODED' ALL OVER, DELIVERING PAINFUL STINGS THAT NEARLY KILLED HER
Eventually, Glover was recommended as a way to safely get rid of the honey bees.
When he arrived last Friday, Glover took a thermal scan to get an idea of where the bees were located. But he had no idea how "physically large" the hive was until he cracked the wall open.
He discovered the bees were entering the hive through a small weep hole and a narrow gap between the bricks and corner of the window, so he began to remove the bricks – one by one – slowly revealing the massive hive.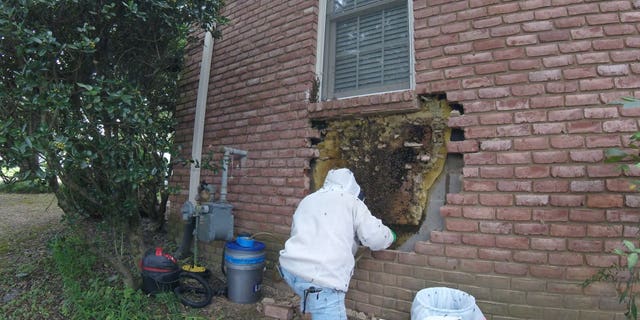 More than four hours later, Glover safely removed the honeycomb, which he said on Facebook wasn't "overly-attached to the bricks" — thus making the removal process smoother than expected. Glover said it was one of the "largest single pieces of comb" he's ever seen, measuring roughly 3 feet wide and 5 feet tall.
"As scary as it is, every homeowner that I work for has to peek [at the hive]. She was astonished at how large it was," he said of the homeowner's reaction.
"Most people assume a beehive is the size of a wasp's nest; they don't realize the sheer magnitude of what bees can do."
"The white comb is the new comb, while the darker stuff is older. Thousands of tiny feet walking across it makes it darker," he explained, noting the hive was likely behind the wall for two years.
OHIO'S 'BEE MAN' REMOVES MASSIVE HORNETS' NEST FROM CAR IN SHOCKING VIDEO
Eventually, Glover — who's worked in the bee removal business since 2009 and removes an estimated 250 hives a year — said in a now viral Facebook post the homeowner was "more than pleased that we were able to remove and relocate the bees and their hive." His post, which detailed the event, had more 80,000 reactions and 20,000 comments as of Friday morning.
"Most people assume a beehive is the size of a wasp's nest; they don't realize the sheer magnitude of what bees can do," he added.