Rare Ernest Hemingway letter documenting '500-pound Marlin' catch surfaces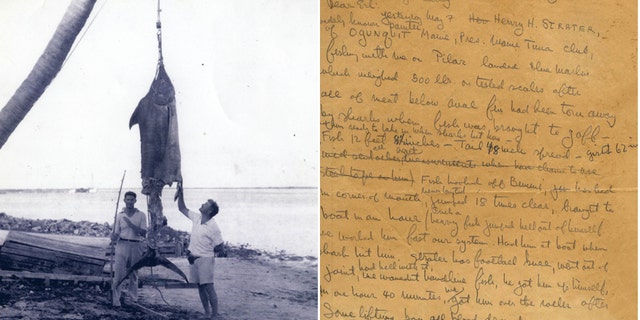 A rare 1935 letter written by Ernest Hemingway about a 500-pound Atlantic Blue Marlin caught in the Bahamas is up for auction in Los Angeles this week.
The catch is thought to have inspired Hemingway's famous novel "The Old Man and the Sea."
The fishing trip occurred on May 7, 1935, when Hemingway was living on the Bahamian island of North Bimini. In the two-page letter, the author describes the struggle to catch the fish, which was landed by his friend, the painter Henry Strater. Hemingway also recounts the shark attack that occurred while the Marlin was being hauled onto his boat "Pilar."
STUNNING SHIPWRECK DISCOVERY: 'WORLD'S OLDEST INTACT' WRECK FOUND
Dated May 8, 1935, the letter was sent to Erl Roman, the Miami Herald's fishing editor. In the letter, Hemingway explains that the fish would have weighed between 700 and 900 pounds, but notes that some of the marlin's meat had been torn off by sharks. "He weighed 500 [pounds] before 20 some witnesses," he wrote.
The letter, written in pencil, differs from other accounts of the incident, according to auction house Nate D. Sanders Auctions. "Importantly, Hemingway's account of the marlin catch differs from other anecdotal stories of it, one of which describes Hemingway using a 'machine gun'' on the shark, which purportedly attracted more sharks to the feeding frenzy," it said, in a statement. "It's likely Hemingway left out this detail, as Strater would blame its use on attracting more sharks to the marlin, depriving Strater of a world record marlin catch."
The letter and its envelope, which are accompanied by a black-and-white photo of the catch, will be auctioned by Nate D. Sanders Auctions on Nov. 8.
Bidding for the letter starts at $30,000.
Follow James Rogers on Twitter @jamesjrogers