PHOTOS: NASA's Juno spacecraft releases first images of Jupiter's Great Red Spot
NEWYou can now listen to Fox News articles!
NASA's Juno spacecraft has released the first images of Jupiter's Great Spot, two days earlier than expected.
The Spot, which has been continuously known to human existence since 1830, is a 10,000-mile wide storm. Juno snapped the pictures using its camera after it hovered 5,600 miles over the Red Spot's clouds. As Jupiter is a gas giant (a planet comprised of hydrogen and helium, with a core made up of rock and ice), such storms are not uncommon.
NASA'S JUNO SPACECRAFT SET FOR HISTORIC FLYBY OF JUPITER'S GREAT RED SPOT
For comparison purposes, the Great Red Spot is larger than two or three planets the size of Earth.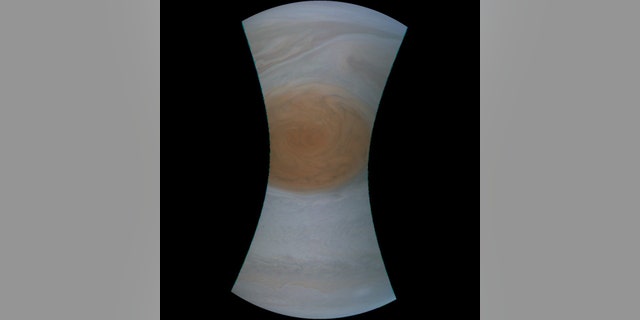 On Monday, a NASA spokeswoman told Fox News the raw images were expected to be downlinked and available on Friday, July 14.
Juno has been in Jupiter's orbit since July 4, 2016, after launching from Cape Canaveral on Aug. 5, 2011. Since that time, it has flown 71 million miles in orbit and has come as close as 2,100 miles above Jupiter's cloud tops.
NASA'S JUNO PROBE NOW ORBITING GAS GIANT JUPITER
In recent years, the Hubble Space Telescope has made observations that appear to show the storm in Jupiter's atmosphere is shrinking.