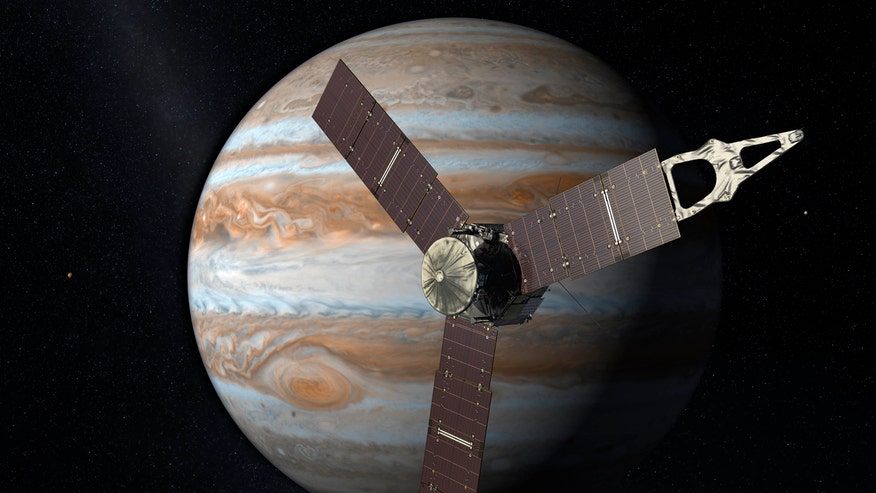 NASA's Juno spacecraft entered Jupiter's orbit late Monday, ending a journey of almost five years to the solar system's largest planet.
In a patriotic coincidence, Juno arrived at Jupiter on the Fourth of July, successfully entering the planet's orbit after a 35-minute burn. NASA received confirmation that the burn had completed at 11.53 p.m. EDT Monday.
Soon after the burn was completed, Juno turned to enable the sun's rays to reach the spacecraft's 18,698 solar cells, making it the farthest solar-powered spacecraft from Earth. Juno has traveled 1.8 billion miles to reach Jupiter.
"Independence Day always is something to celebrate, but today we can add to America's birthday another reason to cheer -- Juno is at Jupiter," said NASA administrator Charlie Bolden, in a statement. "And what is more American than a NASA mission going boldly where no spacecraft has gone before? With Juno, we will investigate the unknowns of Jupiter's massive radiation belts to delve deep into not only the planet's interior, but into how Jupiter was born and how our entire solar system evolved."
The confirmation of Juno's insertion into Jupiter's orbit was received from tracking data monitored at NASA's Jet Propulsion Laboratory in Pasadena, California, and at Lockheed Martin's Juno operations center in Littleton, Colorado. The telemetry and tracking data were received by NASA's Deep Space Network antennas in Goldstone, California and Canberra, Australia.
Juno's arrival at Jupiter was greeted with delight on social media.
"Congratulations @NASA! What you accomplished last night is incredibly hard. Hello Jupiter!," tweeted former astronaut Chris Hadfield.
Congratulations @NASA! What you accomplished last night is incredibly hard. Hello Jupiter! https://t.co/fenSVkfwwY pic.twitter.com/0M1QaFtXRJ

— Chris Hadfield (@Cmdr_Hadfield) July 5, 2016
"Congratulations @NASAJuno team! From Earth's citizens," tweeted science educator and television presenter Bill Nye.
Congratulations @NASAJuno team! From Earth's citizens @exploreplanets pic.twitter.com/8aUplpuXQC

— Bill Nye (@BillNye) July 5, 2016
Nye, famous for his TV show "Bill Nye the Science Guy," was at NASA's Jet Propulsion Laboratory for the probe's arrival.
NASA's achievement was also celebrated by Google in a doodle inspired by Juno Tuesday.
Jupiter is mostly composed of hydrogen and helium surrounding a core of rocks and ice, according to Space.com.
The official science collection phase of NASA's Juno mission begins in October although the space agency says it has figured out a way to collect data much earlier than that.
Scientists have promised close-up views of the planet when Juno skims the cloud tops during the 20-month, $1.1 billion mission.
Juno's mission: To peer through Jupiter's cloud-socked atmosphere and map the interior from a unique vantage point above the poles. Among the lingering questions: How much water and ammonia exists? Is there a solid core? Why are Jupiter's southern and northern lights the brightest in the solar system?
NASA says that the mission represents "a giant step forward" in our understanding of how giant planets form and the role they played in putting together the rest of the solar system. "As our primary example of a giant planet, Jupiter also can provide critical knowledge for understanding the planetary systems being discovered around other stars," it said, in its statement.
"What Juno's about is looking beneath that surface," Juno chief scientist Scott Bolton said before the arrival. "We've got to go down and look at what's inside, see how it's built, how deep these features go, learn about its real secrets."
There's also the mystery of Jupiter's Great Red Spot. Recent observations by the Hubble Space Telescope revealed the centuries-old monster storm in Jupiter's atmosphere is shrinking.
However, a spokesman for NASA's Jet Propulsion Laboratory told FoxNews.com that no new images of Jupiter will be released "for the next few weeks."
Last year NASA's New Horizons spacecraft made a historic flyby of Pluto after traveling 3 billion miles on an epic journey that lasted more than 9 years.
The Associated Press contributed to this report.
Follow James Rogers on Twitter @jamesjrogers