Paul Revere family outhouse may have been uncovered in Boston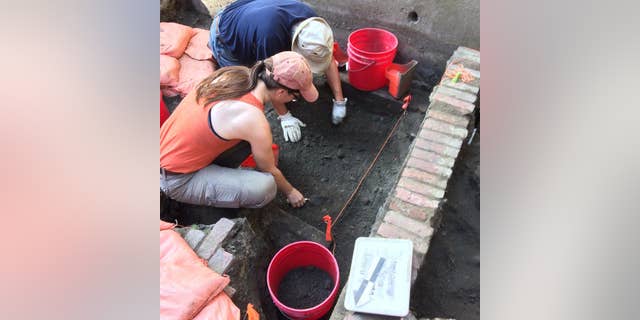 Archaeologists in Boston have made a fascinating discovery – a centuries-old outhouse that may be linked to the family of Patriot Paul Revere.
Experts began digging at the site, which is in an alleyway next to the Pierce-Hichborn House, this week. The Pierce-Hichborn House, a Boston historical landmark, is adjacent to the famous Paul Revere House in the city's North End. The home was built in 1711 and was bought by Paul Revere's cousin Nathaniel Hichborn, a boat builder, in 1781. It remained in the Hichborn family until 1865.
The rectangular outhouse, or 'privy' is about 4 feet by 6 feet, and may offer a fascinating glimpse into the city's life in the 18th century. City laws at the time required outhouses to be 6 feet deep. Joe Bagley, city archaeologist for Boston's Landmarks Commission, told Fox News that, in addition to "night soil," or human waste, all manner of items ended up in outhouses. "There weren't a lot of options for what to do with your daily trash," he explained. "In an excavation in an outhouse in Boston last year, one layer [of soil] contained 8,000 artifacts," Bagley added, which included dozens of plates and cups and thousands of animal bones.
ARCHAEOLOGISTS UNEARTH HISTORICAL TREASURE TROVE FROM 300-YEAR-OLD PHILADELPHIA TOILETS
By studying the remains of human waste in outhouses, archaeologists can also find evidence of parasites, offering vital clues to peoples' diets at the time. Thanks to the organic composition of outhouse soil, even materials such as leather can sometimes be found. "Usually, preservation is very good in an outhouse," explained Bagley.
However, archaeologists are just at the start of their excavation of the Pierce-Hichborn outhouse. "It's a bit of a mystery – the suspense is mounting as we dig down deeper," Bagley said. "Every inch that we go back deeper, we're working our way further back in time," he said. "We're down 2 feet now, so we still have a way to go."
While the outhouse is yet to reveal its all of its secrets, part of a German beer stein's handle has already been unearthed. "The German beer stein probably dates from the mid-1700s – it's definitely 18th century," Bagley explained.
GEORGE WASHINGTON'S 'REDISCOVERED' REVOLUTIONARY WAR SASH ON DISPLAY
Famous for his midnight ride to Lexington, Massachusetts, in April 1775 that warned John Hancock and Samuel Adams of advancing British forces, Paul Revere lived from 1734 to 1818. He owned the nearby house from 1770 to 1800, although Revere and his family are not thought to have lived there for most of the 1780s.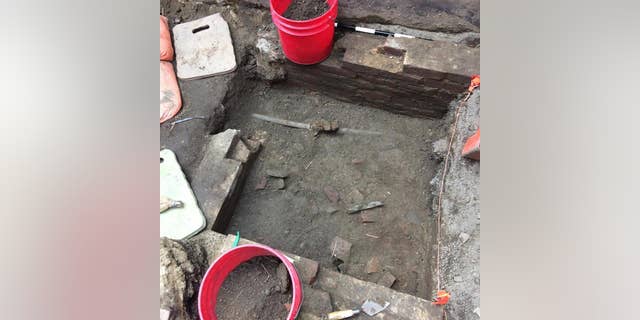 However, he may well have been a visitor to his cousin's nearby home. Now, only a courtyard separates the Pierce-Hichborn House from the Paul Revere House.
"If Revere came over for dinner, he would have been eating off Nathaniel Hichborn's plates – that's what we're hoping to find in the privy," explained Bagley.
REVOLUTIONARY WAR-ERA KNIFE DISCOVERED IN MICHIGAN STATE PARK
The archaeologist, however, dismissed recent media reports that the outhouse once belonged to the Revolutionary War figure. "It's definitely not Paul Revere's privy," he said, noting that another house now occupies the location where the Paul Revere House privy may have once stood. "The privy has probably been dug up and carted away 200 years ago," he said.
Nonetheless, the outhouse could still offer great insight into the history of Boston. "Where we are in the North End of Boston was heavily settled," explained Nina Zannieri, executive director of the Paul Revere Memorial Association, which is responsible for the Paul Revere House, the Pierce-Hichborn House and the nearby 19th-century Lathrop Place houses. "From a historical standpoint, we think of these properties as reflecting a broader swath of Boston history."
Bagley told Fox News that archaeologists will likely be working at the outhouse site for the next two or three weeks.
BOSTON UNIVERSITY STUDENTS DISCOVER 1915 TIME CAPSULE
In recent years, archaeologists unearthed a historical treasure trove from 300-year-old toilets in Philadelphia.
Follow James Rogers on Twitter @jamesjrogers