On July 4, the Juno spacecraft will finally reach Jupiter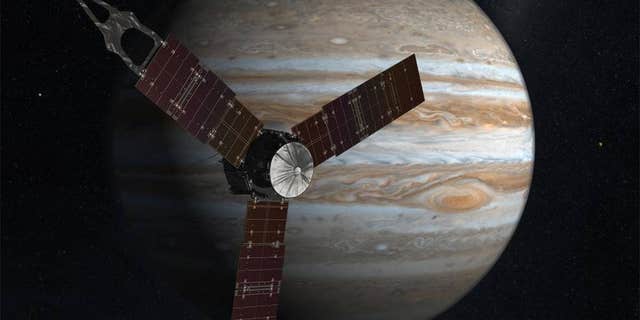 NEWYou can now listen to Fox News articles!
NASA's Juno spacecraft will enter into orbit around Jupiter on the Fourth of July, completing a journey of over 1.7 billion miles that began on August 5, 2011 when it blasted off from Earth on an Atlas V rocket.
After the spacecraft slows down from a breakneck speed of over 40 miles per second and enters a polar orbit, it will study Jupiter, helping scientists better understand what's inside the planet and learn more about the gas giant's red spot, which is three times the diameter of Earth. The mission is focused on, among other goals, understanding the planet's "origin and evolution," NASA says.
Related: How the Air Force's 'space fence' will keep American satellites safe
"We're currently closing the distance between us and Jupiter at about four miles per second," Scott Bolton, the principal investigator for Juno and the director of the space sciences department at Southwest Research Institute in Texas, said in a statement on June 9.
"But Jupiter's gravity is tugging at us harder every day and by the time we arrive we'll be accelerated to 10 times that speed -- more than 40 miles per second (nearly 70 kilometers per second) -- by the time our rocket engine puts on the brakes to get us into orbit," Bolton said.
Related: Bill Nye: Internet is helping launch the next generation of scientists
Scientist Bill Nye has starred in a series of short light-hearted videos about the mission to Jupiter, discussing aspects of the journey like how the craft slingshot around the Earth in 2013, how it will study the red spot, the planet's core (if it has one), and how it is powered.
The spacecraft will execute a 35-minute burn of its engines on Independence Day to slow down and begin its study of Jupiter in what NASA described as the "harshest radiation environment known."
Follow Rob Verger on Twitter: @robverger