New York City in a Deal for Removing School PCBs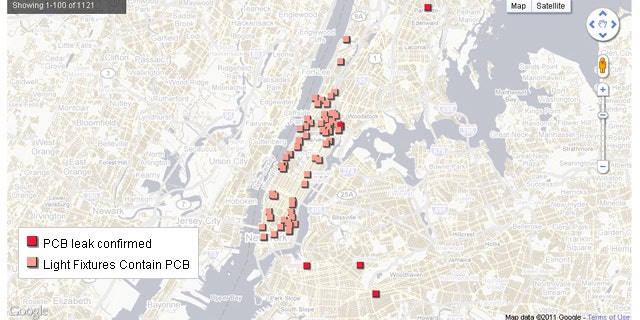 NEWYou can now listen to Fox News articles!
New York City officials are quietly preparing to accede to federal officials' demands that they replace aging light fixtures at public schools due to health concerns about leaking PCBs, The Wall Street Journal reported Wednesday.
PCBs are chemicals widely used in construction materials beginning in the 1950s; they were banned in 1978. PCB exposure has been linked to cancer, as well as immune and reproductive system disorders.
People familiar with the discussions have said Mayor Michael Bloomberg has approved a plan to seek bids for contracts to do the work. The city plans to spend $708 million to implement the plan at 772 public-school buildings over a 10-year period. A Bloomberg official said the announcement could come as early as Wednesday.
The city has been in a months-long standoff over the issue with the Environmental Protection Agency (EPA), which has demanded quick replacement of the suspect lights. Environmental advocates have argued the work be completed much earlier, in two or five years
In addition to removing outdated, leaking light fixtures, the city plans to conduct energy audits at its schools and to replace outdated and inefficient boilers in the school system.
The Bloomberg administration official said the effort would reduce greenhouse-gas emissions by more than 200,000 metric tons per year.
One company, T.M. Bier & Associates, has written to City Council Member Vincent Ignizio, offering to do the work at no upfront cost in exchange for payments in subsequent years based on the amount the schools save on their energy bills with newer, more efficient lights.
The EPA has been pressing the city to create a plan to immediately begin removing all of the old fluorescent lighting fixtures blamed for leaking PCBs.
The city says the leaks pose no immediate health risk to children, and insists it cannot afford to replace fixtures in roughly 800 school buildings. The city has said this work would cost $1 billion, but the EPA and environmental advocates question the accuracy of that figure.
Read more at the Wall Street Journal