New Nature Reserve for Rare Asian 'Unicorn'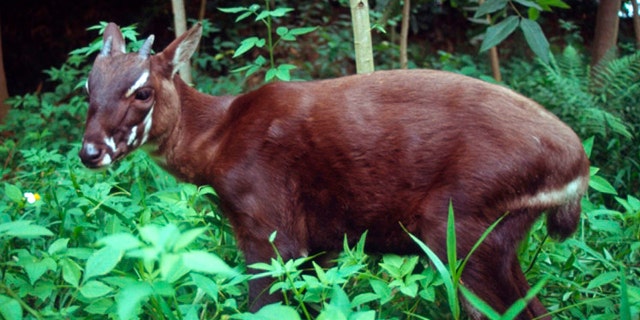 HANOI, Vietnam – A nature reserve has been set aside in central Vietnam for the critically endangered saola, raising hope for the antelope-like species' survival, a wildlife official said Monday.
The saola looks like a small deer or antelope with two horns, but is locally known as an Asian "unicorn." They are thought to number from a few dozen to a few hundred, and are threatened by poachers wanting its horns. The conservation group WWF says none has survived in captivity.
The land set aside last week in the central province of Quang Nam is rich in bio-diversity and home to an estimated 50 to 60 saolas, said Pham Thanh Lam, director of the Forest Bureau in the province.
"For ethnic minority people, hunting is a way of earning their living," Lam said. "They would not spare the saola, so it's necessary to create conditions for them to earn their living to minimize hunting for wild animals including saola."
Saola, described as a primitive member of the bovine family which includes cattle, sheep and antelopes, was discovered in the forests in central Vietnam in 1992.
"If no reserve activities are launched now, the danger of the saolas' extinction is clear," he said.
The efforts to protect the species will incude education campaigns and jobs, including patrolling the nature reserve, that provide stable income, Lam said.
The reserve of 15,800 hectares (39,000 acres) is in the Annamite mountains along the Laos border. Another reserve is in neighboring Thua Thien Hue province.
The Quang Nam reserve will abut Xe Sap National Park in western Laos, said Tran Minh Hien, country director of WWF Vietnam, in a statement.