Navy helmet from John Glenn's record-breaking supersonic flight up for auction
A U.S. Navy helmet worn by John Glenn during a record-breaking supersonic flight will be auctioned in Los Angeles next week.
Glenn, who went on to become one of America's most famous astronauts and also served in the U.S. Senate, was a Marine Corps major when he took part in the historic flight on July 16, 1957.
The mission was the first supersonic transcontinental flight.
Flying as a U.S. Naval test pilot, Glenn took off in a Vought F8U Crusader from Los Alamitos Naval Air Station, near Los Angeles, and landed at Floyd Bennett Field, in Brooklyn, N.Y., just over three hours and 23 minutes later.
Dubbed Project Bullet because the plane's air speed was faster than a bullet from a .45-caliber pistol, the flight set a transcontinental speed record of 725.55 mph.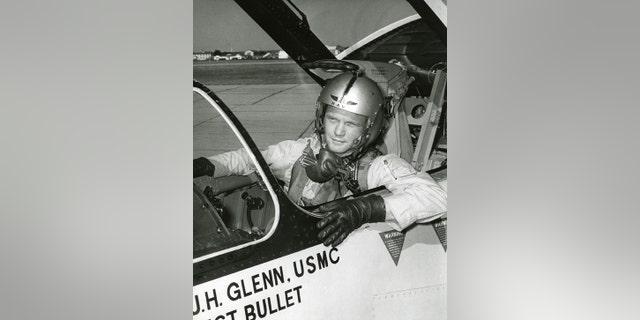 TRIBUTES POUR IN FOR SPACE PIONEER JOHN GLENN
The feat earned Glenn a certain degree of celebrity and paved the way for his designation as one of NASA's Mercury astronauts in 1958. Four years later, the Korean War veteran was catapulted to global fame when he became the first American to orbit the Earth. He was also the third U.S. astronaut in space.
Glenn made history again in 1998 when he returned to space as a payload specialist on the Space Shuttle Discovery. The then 77-year-old became the oldest person to fly in space.
Tributes poured in for the space pioneer when he passed away on Dec. 8, 2016 at the age of 95.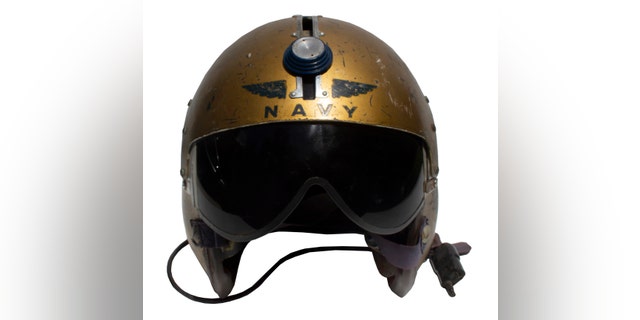 WRECKAGE OF WWII B-24 BOMBER DISCOVERED 74 YEARS AFTER IT WAS SHOT DOWN
Now his helmet will be auctioned by Nate D. Sanders Auctions in Los Angeles on May 31.
"The gold helmet is printed with Naval wings above the screen and reads 'Navy,'" the auction house explained in a statement. "Glenn's name, 'J.H. GLENN' is written in pen to the right side."
The helmet was given by Glenn to Mercury 7 astronaut Scott Carpenter's sons, Matthew and Nicholas Carpenter, according to Nate D. Sanders Auctions.
Bidding for the helmet starts at $100,000.
Follow James Rogers on Twitter @jamesjrogers