NASA's historic Apollo 7 mission splashed down 50 years ago today
50 years ago today, NASA's historic Apollo 7 mission splashed down in the Atlantic Ocean after spending almost 11 days in space.
Apollo 7 was the first crewed Apollo mission in space and helped lay the foundations for subsequent lunar missions. Astronauts Walter Schirra, Donn Eisele and Walter Cunningham lifted off atop a Saturn 1B rocket from Cape Canaveral's Launch Complex 34 on Oct. 11, 1968.
After completing a wide array of tests in orbit, the astronauts splashed down in their Command Module southeast of Bermuda on Oct. 22, 1968.
NASA ASTRONAUT DESCRIBES DRAMATIC ESCAPE FROM FAILED SOYUZ ROCKET
"All mission objectives were accomplished, and with a duration of nearly 11 days, the flight proved the ability of the spacecraft and crew to complete an 8-day lunar landing mission," explains NASA, on its website. "All spacecraft systems performed essentially as expected, including the all-important Space Propulsion System (SPS) engine, critical on future missions to place crews into and return them from lunar orbit."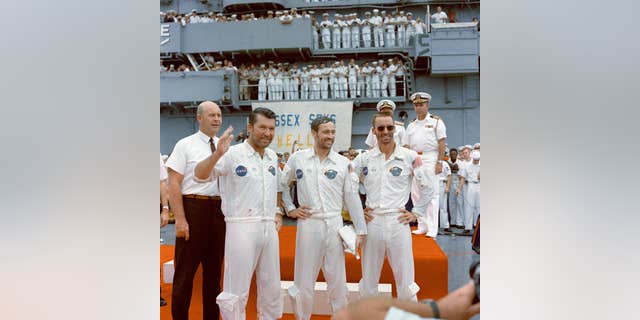 Apollo 7 also marked the first 3-person crewed U.S. spaceflight and the first live TV broadcast from an American spacecraft.
The mission came just 18 months after astronauts Gus Grissom, Edward White II and Roger Chaffee tragically lost their lives in the Apollo 1 launch pad fire.
WATCH: NASA RELEASES 450,000 GALLONS OF WATER IN ONE MINUTE
Apollo 7 was the first American space mission to use a "mixed cabin atmosphere" consisting of 65 percent oxygen and 35 percent nitrogen. "All previous flights had used 100 percent oxygen, a procedure changed as a result of recommendations made by the Apollo 1 fire investigation board," explained NASA.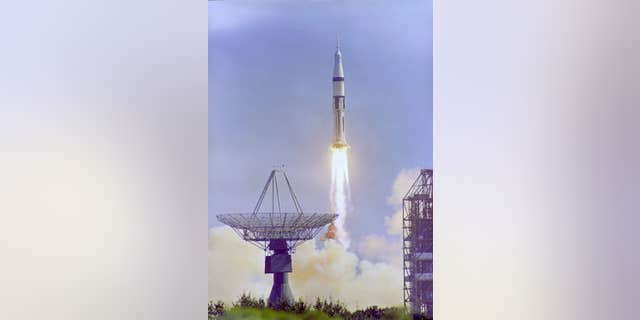 "The success of Apollo 7 gave the nation confidence to be able to meet President Kennedy's commitment of landing a man on the Moon before the end of the decade," adds NASA.
Less than a year later, on July 20, 1969, Apollo 11 astronaut Neil Armstrong became the first man to walk on the Moon.
Follow James Rogers on Twitter @jamesjrogers