NASA picks Dream Chaser space plane for ISS supply missions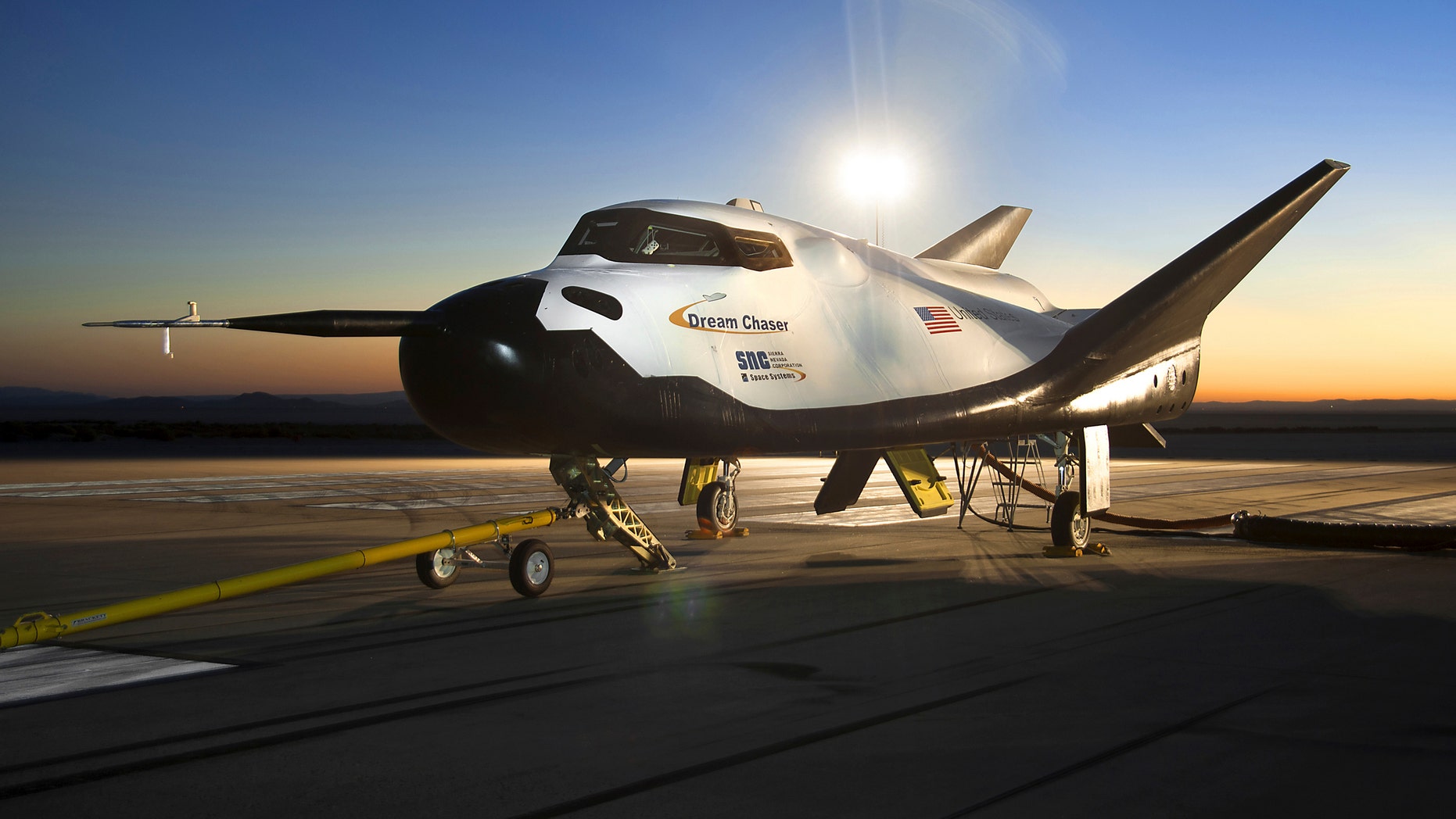 NASA has awarded private space companies SpaceX, Orbital ATK and Sierra Nevada Corporation contracts to supply the International Space Station from 2019 through 2024.
The deal adds Sierra Nevada's Dream Chaser to the list of spacecraft flying cargo missions to the orbiting laboratory. Like NASA's space shuttle, Dream Chaser is a reusable space plane.
"Proud to be selected as the next commercial resupply service provider for @NASA @Space_Station #CRS2 #SNCDreamChaser," tweeted the company shortly after the announcement was made on Thursday afternoon.
Speaking during a press conference Julie Robinson, chief scientist for NASA's ISS Program, said that the runway landings offered by Dream Chaser will be valuable for fragile science experiments returning to Earth from the ISS. The soft landing, she explained "is a really nice capability to add to the suite of things that we do now."
Related:  SpaceX rocket set to launch NOAA satellite Sunday
Under the terms of the contracts, each of the three companies selected will fly at least six missions to the ISS. "There's a minimum of six missions to the ISS from each of these partners," explained Kirk Shireman, ISS Program manager at NASA's Johnson Space Center in Houston, adding that NASA is likely to buy more than 18 flights.
Commercial Resupply Services 2 (CRS-2) is NASA's second round of contracts with private companies to fly cargo to the ISS. NASA awarded its first commercial resupply contracts in 2008, anticipating the pending retirement of its space shuttles. The first commercial cargo flight, by SpaceX, was in 2012, a year after the last shuttle mission.
In addition to SpaceX, Orbital Sciences has also been flying missions under the CRS-1 contracts, with both companies experiencing a launch failure. Orbital Sciences merged with ATK to form Orbital ATK last year.
The first CRS-2 mission is expected in late 2019.
The CRS-2 contracts have a maximum aggregate value of $14 billion, although, at this stage, NASA does not expect to reach that number.  "The mix of flights we are looking at are nowhere near that value," said Shireman.
Related: SpaceX releases stunning footage of Falcon 9 rocket landing
The official was also unable to provide a contract value for each of the three CRS-2 companies, noting that NASA needs a great degree of flexibility for its resupply missions. "We can order the missions a la carte or in groupings, which makes it impossible to give a specific price at this stage," he said.
Shireman would not comment on Boeing's departure from the competition last year, or other contenders.
SpaceX's launch efforts have garnered a great deal of attention in the last few months. In December the company successfully landed a Falcon 9 rocket at Cape Canaveral, Florida, after launching a cargo mission to the ISS. The impressive feat was the first time an unmanned rocket returned to land vertically at Cape Canaveral and represented a tremendous success for SpaceX.
The company, which is led by billionaire Elon Musk is striving for reusability to drive launch costs down and open up space to more people.
Related: Scientists confirm presence of water ice on Rosetta's comet
SpaceX will attempt another audacious rocket landing on Sunday after a Falcon 9 lifts NOAA's Jason-3 satellite into orbit from Vandenberg Air Force Base in California. In a tweet on Monday Musk confirmed that the rocket landing attempt will use a droneship, or floating ocean platform. SpaceX's previous landing attempts on droneships have ended in fiery blasts.
Follow James Rogers on Twitter @jamesjrogers
The Associated Press contributed to this report.