NASA Invests $270 Million in Potential Shuttle Replacements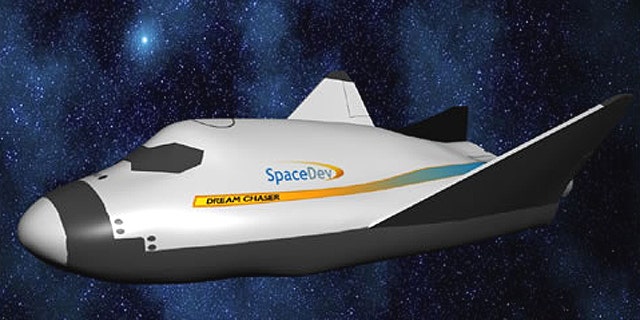 NEWYou can now listen to Fox News articles!
NASA pledged Monday what amounts to a $270 million down payment on the space agency's post-shuttle future, financially backing four companies that are heading the charge in private spaceflight.
This is the second -- and much larger -- round of funding in NASA's Commercial Crew Development (CCDev) program, which is intended to drive efforts by private companies to develop viable human spaceflight capabilities, as the decades-long era of the space shuttle comes to an end.
"The next American-flagged vehicle to carry our astronauts into space is going to be a U.S. commercial provider," said Ed Mango, NASA's Commercial Crew Program manager. "The partnerships NASA is forming with industry will support the development of multiple American systems capable of providing future access to low-Earth orbit."
The grants include:
* Blue Origin, of Kent, Washington, $22 million for orbital commercial spaceflight vehicle design and development, including testing of its Pusher escape system and engine testing.
* Sierra Nevada Corp. of Louisville, Colorado, which will receive $80 million to mature the Dream Chaser system, focusing on multiple spacecraft.
* SpaceX of Hawthorne, California, which flew its Dragon capsule to orbit and recovered it successfully last year, which will receive $75 million for various items.
* The Boeing Company of Houston, Texas, whose team includes Bigelow Aerospace, which will receive $92.3 million for a variety of items.
The disparate amounts of the awards are not indicative of their merit, NASA cautioned. Indeed, the companies being awarded aren't all competing to build an end-to-end spacecraft; some are building launch vehicles, while others will rely on rockets form the United Launch Alliance to carry their spacecraft to the heavens.
Indeed, SpaceX (and Orbital Sciences Corp.) have separate contracts in place with NASA to conduct cargo supply flights to the space station following the retirement of the shuttle.
The spaceflight efforts of these companies aren't being solely funded by taxpayer dollars, of course; each company invests its own money. NASA only awards grant money once specific milestones are met, explained Eric Anderson, chairman of the Commercial Spaceflight Federation.
"These companies are investing their own money alongside NASA's money adding even more investment in the final system," he explained in a statement congratulating the winners. "Each taxpayer dollar goes farther."
Of all the companies, the mysterious Blue Origin, founded by Jeff Bezos of Amazon.com fame, is the least known. NASA singled the company out for its Pusher Escape System, a launch abort system, but the space agency also said the company was working on a capsule design that has seen little public exposure.
NASA spent $50 million on the CCDev program in 2009 and plans to invest an additional $850 million next year in the next phase of the program, CCDev 3.
The agency hopes to see "purchasable products" by mid-decade.
"Mid-decade is an important decade we're going to try to get to," Mango said, noting that getting a vehicle capable of flying involved certification, profiling, and numerous safety checks.
"We are working as fast as we can, within the confines of safe space flight," Macalaster added. "We're not sitting around, we're hopefully going to make a lot of progress over the next year so we can get there as soon as we can."