NASA astronaut describes 'profound potential' of breakthrough space experiments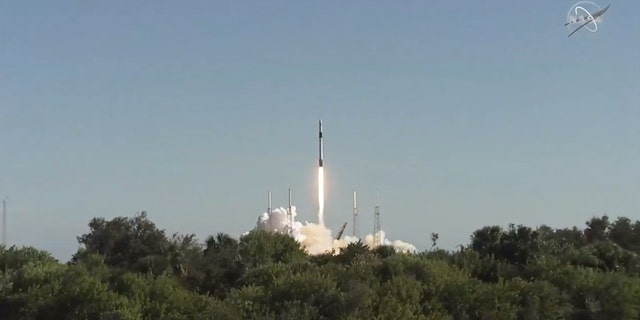 As part of NASA's latest launch to the International Space Station on Dec. 5, the space agency sent up 5,600 pounds of research equipment, cargo and supplies atop a SpaceX Falcon 9 rocket. The cargo mission supports the ISS's crewmembers and dozens of experiments on the orbiting space lab.
Included in that payload is equipment for several science experiments and the potential to help with macular degeneration and research that may significantly improve wound healing – especially tissue regeneration.
"There are a lot of different, compelling reasons to leave Earth to conduct these experiments," Dr. Mike Roberts, Deputy Chief Scientist for the ISS National Lab, told Fox News in a recent interview. "We can use the ISS as a remote lab and utilize it as an engineering task platform to test new materials and test them in the harsh environment of space."
HOW AMERICA CAN GET ITS SLICE OF THE $1 TRILLION SPACE ECONOMY
Former NASA astronaut Terry Virts, who logged 212 days in space and conducted three spacewalks totaling more than 19 hours, added to that and said the experiments conducted in a zero-gravity environment, especially medical experiments, have a pretty "profound potential" to help humans on Earth.
"One of the benefits in zero-gravity is that you can grow things like tissues or crystals where there's no weight," Virts told Fox News. "When there's something fighting against gravity, it grows differently. We've done protein crystals in space a lot and scientists can understand the structure of the cross-gene that's involved in a lot of cancers, especially pancreatic cancer and how to combat it. That's some of the more interesting and potentially viable applications."
While onboard the ISS, Virts dealt with keeping track of the cargo that was sent up from Earth and worked on experiments that dealt with bone density loss and muscle issues, as well as E. coli and salmonella immunizations. In total, Virts said the astronauts worked on over 250 experiments while he was onboard the space lab.
CURIOSITY ROVER SPOTS 'SHINY OBJECT' ON MARS AND NASA ISN'T SURE WHAT IT IS
Restoring vision
The experiment to help restore vision is in part being funded by start-up LambdaVision, a Boston-based startup funded by MassChallenge Startup Accelerator that is working on the "cutting edge of entrepreneurship," Dr. Roberts said. The ultimate goal is to create a new eye prosthetic for those who suffer from numerous retinal and eye diseases.
The company has created a retinal protein based on an eye implant and is looking to find out whether it can help with macular degeneration, which Roberts said would be increasingly important as the population of the country gets older.
"As we have an aging population, these are some of the more severe threats to the health of the nation and any advances they make would be significant," Roberts said.
According to the U.S. Census Bureau, more than 35 percent of the U.S. population is 50 and older.
Roberts added that LambdaVision could do the experiments on Earth, but they found that the protein layers build imperfections, adding that the absence of gravity could help the company make better decisions. "When they're in a free-fall, they may be able to form better retinal protein layers and help improve the manufacturing process on Earth."
NASA'S INSIGHT MARS LANDER ARRIVES ON THE RED PLANET, ENDS SUCCESSFUL JOURNEY
Wound healing
One of the other experiments that will be performed on the ISS is research towards regenerating tissue, similar to what was seen on the hit sci-fi series "Star Trek." The ultimate goal is to find a new way to treat wounds, lower the chances of sepsis and inflammation and potentially even treat wounds on the battlefield.
Tympanogen has a product, including a hydrogel known as Perf-Fix, to deal with wounds healing faster, which is of particular interest to astronauts who may be days, weeks or even months away from the Earth.
"We need medical technology that can be deployed in remote environments," Roberts said, to "effectively repair biomedical damage."
Tympanogen hopes its gel, which Roberts said has "a large moisture content in it and can be used with different drugs," can be combined with antibiotics and different compounds to help accelerate the rate of healing.
"In the absence of gravity, the rate of antibiotics and other drugs that can be released can help translate into clinical trials," Roberts said. "It's certainly of interest to the Dept. of Defense and for space exploration in general."
Benefits of the space lab
The experiments will be conducted over the next 30 to 60 days, Roberts said, with the potential that if more time is needed, it can be accommodated. Although the data may be available as soon as a few months after the samples are returned, the potential benefits of the space experiments could be measured in years.
"There are very few opportunities to have that 'Eureka!' moment to cure cancer," Virts said, noting that much of the science has been done already on Earth.
"Most of the pieces can be done on Earth, but for the few that can't, the ISS allows those pieces to be added," Virts added, likening the experiments to a puzzle. "It's difficult to quantify what the result could be and what can come from it, but if a drug company can learn something new and combine that with the stuff that is learned on Earth to get to an end result, then space will show that it's an important part because it can't physically be done here on Earth."
Follow Chris Ciaccia on Twitter @Chris_Ciaccia
A previous version of this story indicated that Tympanogen had won the MassChallenge. LambdaVision was the winner. Fox News regrets this error.