Moldy mouse food to blame for delayed Space Station supply launch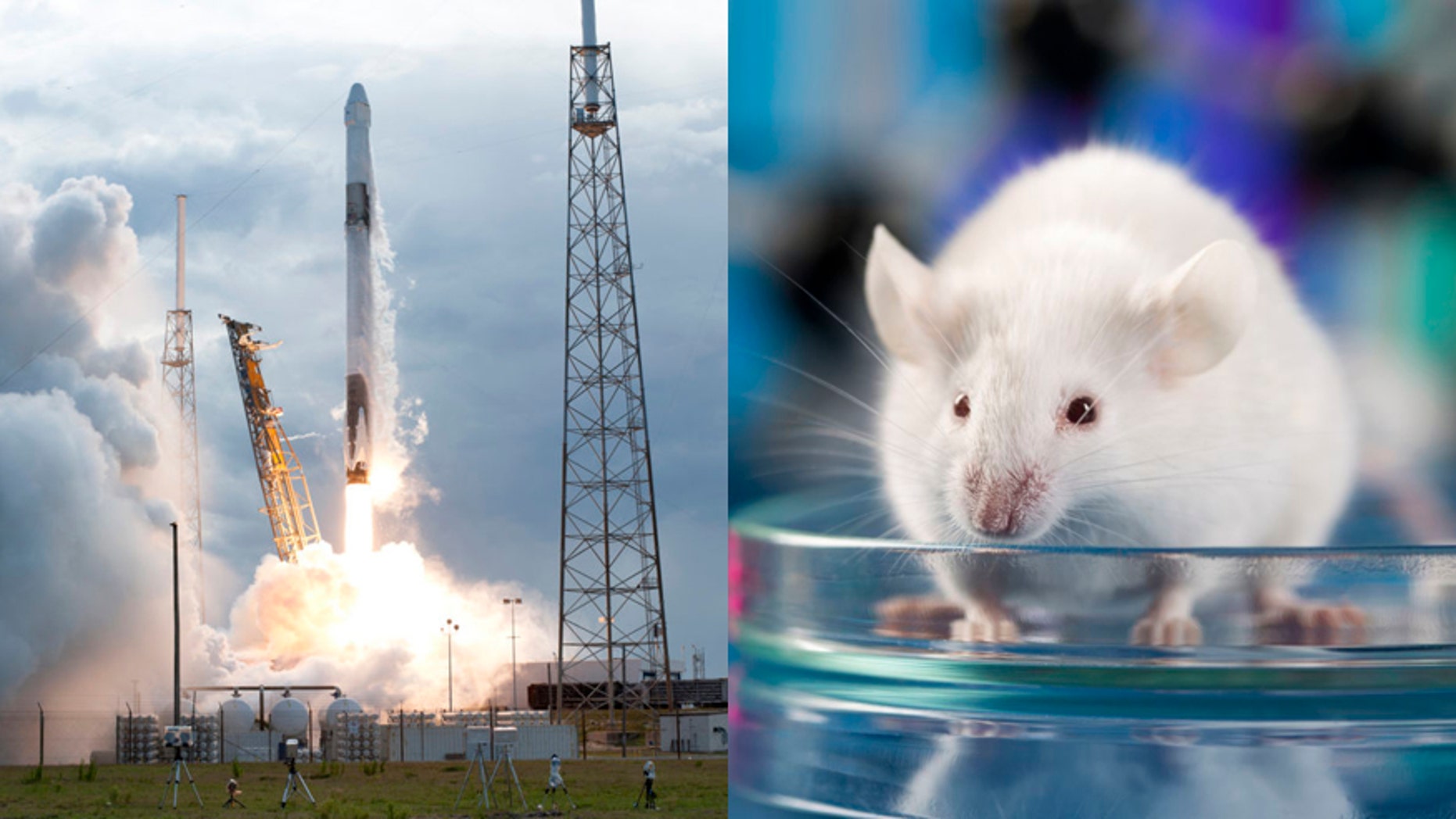 NASA and SpaceX will launch a cargo mission to the International Space Station Wednesday after a 24-hour delay caused by moldy mouse food.
"The launch was moved to Wednesday after mold was found on food bars for a rodent investigation prior to handover to SpaceX," explained NASA in a statement. "Teams will use the extra day to replace the food bars."
Some 40 mice will be traveling to the ISS in the SpaceX Dragon cargo capsule as part of a project called Rodent Research-8 (RR-8), Space.com explains. The study is examining the physiology of aging and the effect of age on disease progression on both young and old mice.
"Responses to spaceflight in humans and model organisms such as mice resemble certain aspects of accelerated aging," adds NASA on its website. "This investigation provides a better understanding of aging-related immune, bone, and muscle disease processes, which may lead to new therapies for use in space and on Earth."
SPACEX ROCKET LAUNCH CAUSES SOCIAL MEDIA STIR IN SOUTHERN CALIFORNIA
Wednesday's launch, which is SpaceX's 16th cargo resupply mission to the ISS, is scheduled to take place at 1:16 p.m. EST from Cape Canaveral Air Force Station in Florida. Loaded with more than 5,600 pounds of cargo, the Dragon capsule had originally been scheduled to launch atop a SpaceX Falcon 9 rocket early Tuesday afternoon.
Meteorologists with the U.S. Air Force 45th Space Wing predict a 90 percent chance of favorable weather for Wednesday's launch.
This is a busy week for SpaceX. One of the company's rockets carrying 64 small satellites lifted off from California on Monday, marking the first time the same Falcon 9 rocket has been used in three space missions.
NASA CHIEF TELLS ELON MUSK TO STOP DRINKING AND SMOKING POT
The rocket blasted off from Vandenberg Air Force Base, arcing over the Pacific Ocean west of Los Angeles as it headed toward space.
Minutes later, the rocket's first stage performed a so-called boost back maneuver and landed on an unmanned ship in the Pacific.
SpaceX founder Elon Musk has made reusability a major goal.
SOYUZ SPACECRAFT CARRYING THREE ASTRONAUTS SUCCESSFULLY DOCKS WITH THE INTERNATIONAL SPACE STATION
On Monday, a Russian Soyuz spacecraft carrying three astronauts, including one American, successfully docked with the International Space Station. The launch from the Baikonur Cosmodrome in Kazakhstan was the first successful manned mission to the space lab since an aborted Soyuz launch in October.
The Associated Press contributed to this article.
Follow James Rogers on Twitter @jamesjrogers