SpaceX rocket launch causes social media stir in Southern California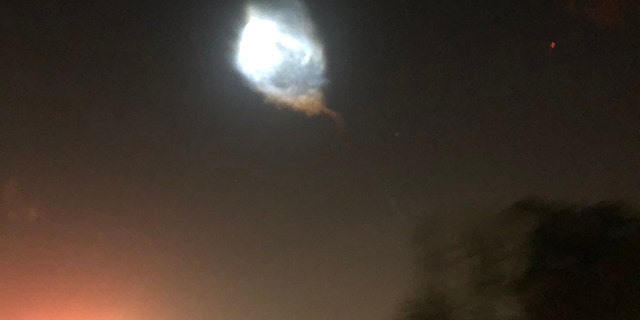 The SpaceX Falcon 9 rocket launch on Sunday night carrying an Argentine satellite sparked some confusion on social media about a bright light traveling across the Southern California sky.
Viewers took to social media to speculate on the rocket, which was launched from Vandenberg Air Force Base, which is about 130 miles northwest of Los Angeles. Depending on the viewers' vantage point, the light resembled a comet or had some clouds around it. One commenter compared the glow to the Aurora Borealis.
"Strange things in the sky over LA tonight if you live in the area look up," one Twitter user wrote. "Ball of light with what looks like either a tail or artificial light beaming from it."
The primary purpose of Sunday's mission was to place the SAOCOM 1A satellite into orbit, but SpaceX also successfully sent a first stage booster back to the base for the first time.
SpaceX has previously landed first stage rockets on land after Florida launches but had not done so on the West Coast.
The satellite is the first of two for Argentina's space agency. It carries a high-resolution instrument called a synthetic aperature radar that will be used for emergency management and land monitoring.
The Air Force last week advised residents on the central California coast they might see multiple engine burns by the first stage and hear one or more sonic booms as it returned.
The Associated Press contributed to this report