Model scientist Susan Finkbeiner, PhD, struts London catwalk one day, chases butterflies the next
Like every other scientist, Susan Finkbeiner has devoted years upon years to school life, getting degrees from a number of universities. Eventually, she became a postdoctoral research scholar on entomology and evolutionary biology, studying the habits of butterflies and other insects.
But unlike most other scientists, she has a glamorous hobby: the 30-year-old Rockford, Ill.-native is an international runway model.
"This happened by chance," Finkbeiner told Fox News over the phone. She said she was doing some modeling while studying at Boston University and, during the first meeting she had with a local modeling agency, the recruiter she was meeting with received a text asking if Finkbeiner would go to London for Fashion Week, as they were looking for models from the U.S. for the show.
STANFORD'S DIAMON ANVIL TECHNOLOGY COULD BE A GAME-CHANGER FOR CHEMISTRY
"It was a quick, whirlwind kind of thing," she said. "To be honest, it was about being in the right place at the right time."
No stranger to being in front of the camera, she had some experience with beauty pageants in high school and was even featured on the cover of an album for a local band at the age of 19. It was 10 months ago when she took the meeting in Beantown that things really started to change for her modeling career.
But, it's her day job that keeps her going.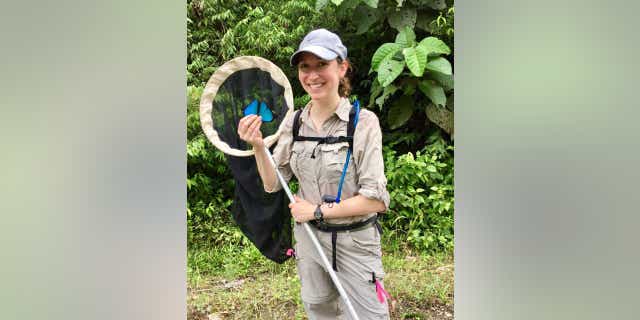 Finkbeiner, who has several research papers published on topics ranging from North American admiral butterflies to understanding the adaptive landscape of Batesian mimicry and lists Jane Goodall as an inspiration, loves being a model on the side, but is adamant that her life is scientific research.
"I'm an entomologist – I love anything that has more than four legs," she said. "People would always say you can't be girly and pretty and want to be a scientist at the same time. There was always this strange stereotype around that if you're a model, you're just another pretty face. But a lot of the models I've met are highly educated and if there is a way to crush these stereotypes, then my job is done."
DINOSAURS BEHEADED: VANDALS ATTACK DINO MODELS AT MUSEUM
What follows below is a Q&A with Finkbeiner. It has been lightly edited for clarity and brevity.
Fox News: What do you do as an entomologist and what does your schedule look like?
Susan Finkbeiner: I'm a scientific researcher and an entomologist and evolutionary biologist. I do field work in the tropics and then I perform analysis and write up the results, then publish them.
My schedule is mostly doing field work in tropical environments, such as Central and South America, then coming back to urban life and doing lab work and writing. I have a handful of hobbies on the side and modeling is one of them and that's something I treat like any other hobby. I also play softball and go to ballet classes. I love science and I'm a scientist, but modeling is something I do on the side. I squeeze that in when I'm in the States.
FN: What does training for a model entail?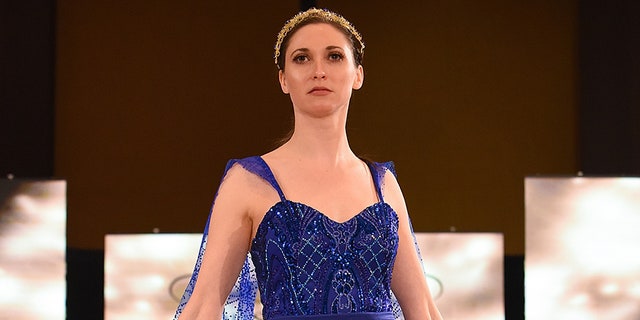 SF: I did have some photo shoots with the agency. You get a lot of practice on how to act in front of camera and learn poses that will accentuate your facial features, as well as learning how to look relaxed in front of the camera. Runway training included a former runway model giving us the run down (no pun intended) on how to walk and how to pose.
I remember having a softball game and going from there straight to modeling practice. This was all new to me and it certainly helped with Fashion Week.
FN: When you're writing research papers and out in the field, dealing with the elements, is there anything you can learn from walking a runway and vice versa?
SF: The New York Times has an algorithm that gives you the opposite profession of one or the other. The opposite of a bio-scientist is a model – I completely disagree with that. Being a field biologist in muddy, slippery conditions, having good balance is key. I've had to cross small streams or rivers, walk on a log and not fall in the river.
After my first runway training session, on the way home, I started to apply mathematical equations to the walk. I think there's a way to bring science to modeling and vice versa.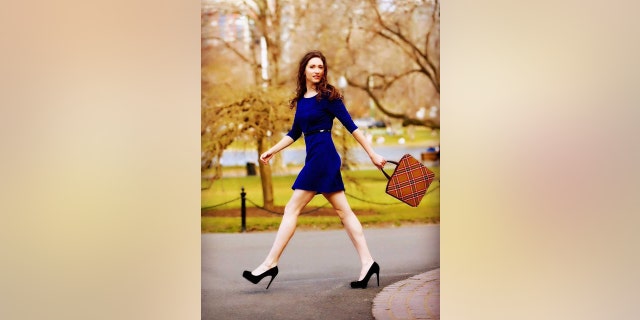 BILL NYE: WHY TECH PLAYS AN IMPORTANT ROLE IN AMERCIA'S NATIONAL PARKS FUTURE
FN: Have you gotten any negative feedback from those in your profession about your hobby?
SF: No, no negative feedback at all. I brought this up to a male professor of mine and said, 'I'm starting to become more well-known. Will this affect my reputation?' He said, 'No, it's no different than being a marine biologist wearing a bikini.' Being a model shouldn't take away from my career as long as it doesn't affect my research. If anything, it's a way to bring attention to the different sides scientists have. You can have hobbies and it's healthy to have them.
A lot of things have changed in the science industry in the past decade and a lot of stereotypes are being crushed. I'm not worried about what I wear in a photo shoot. Everything I do is tasteful.
FN: There's a pay disparity between the two professions, with modeling paying more, so how do you reconcile that?
SF: For a lot of people, their priority is money. For me, it's what I wanted to do my entire life. I'd choose being a scientist over a model any day. For me, money doesn't become a factor, but for other people it might. My heart is very much so with science, modeling is an adventure that I get to escape into from time to time.
FN: We've seen a trend recently toward a relaxing of models looking a certain way, whether it be plus-sized models or something else. Have you ever felt pressured to look a certain way?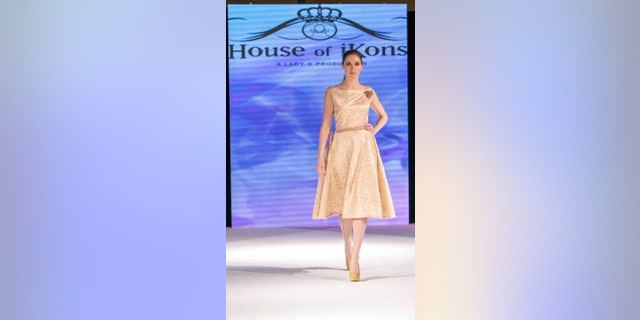 SF: Luckily for me, I'm tall at 5'8" and with runway shoes, I'm about 6'2". For runway models, height is the most important thing because the clothes are designed for people that are that tall. I'm not a size 0 and that's not really expected in the modeling world anymore anyway. People want to buy products for people that look like them.
FN: You've said before "that bugs aren't for girls" and that's the reason most little girls tend to shy away from tiptoeing into the field. What kept your resolve all of these years, despite hearing that?
SF: People who know me well know that I'm incredibly stubborn and when I'm told I can't do something, it's even more of a reason to give it a try. I was obsessed with this stuff when I was 5 and I didn't listen to people who told me no. My parents were incredibly supportive of this and though my peers teased me about this, I went for it everything turned out okay.
FN: How long do you plan to keep modeling for?
SF: I would like to see where it goes as long as it doesn't affect my career as a scientist. I can't commit to modeling on a fairly regular basis, but I have a photo shoot to help with a new skin-care company that's launching and I've been asked to return to London for Fashion Week. Right now, I'm kind of seeing what works with my schedule and in terms of location, but I'll definitely be back on the runway in London in September.
FN: What message do you have to little girls that dream of living a "Cinderella life?"
SF: Your brain is the most important tool you have. Going to college, whether you go to grad school or not, is important. There you learn how to be ambitious, how to work hard for what you want. It's most important to get an education first and then pursue other things. You can apply what you learned in school to those other projects. On a regular basis, I know how to think through situations better now because of it. Education is your number one priority and nothing is too far out of reach.
Follow Chris Ciaccia on Twitter @Chris_Ciaccia