London's mayor launches stellar defense of scientist's heavenly bodies shirt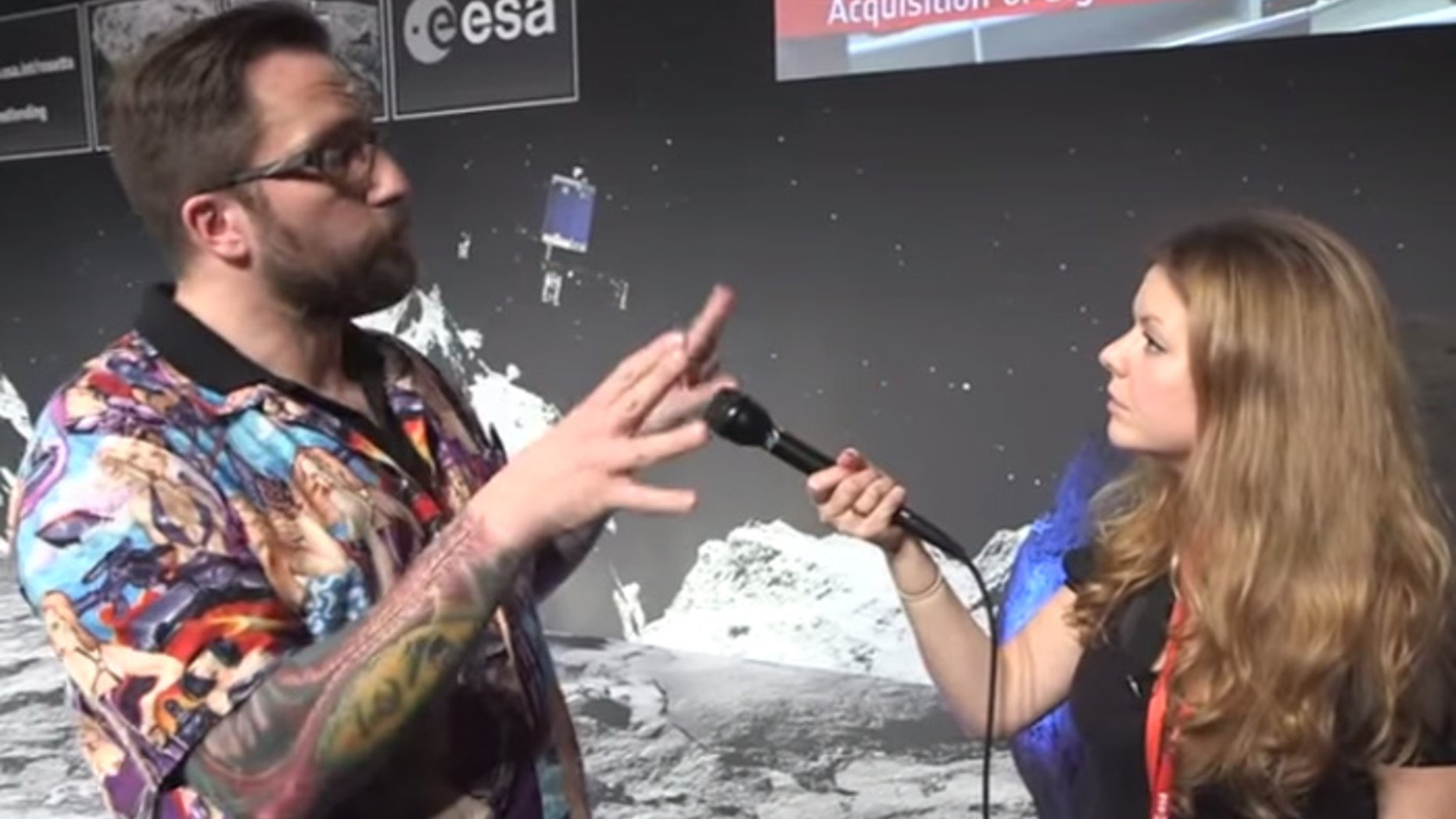 The British scientist whose star turn helping land a probe on a comet was marred by a fashion faux pas that left him a planetary pariah has a defender in London Mayor Boris Johnson.
Matt Taylor first made news when he wore a garish Hawaiian shirt festooned with gun-toting dominatrices to a triumphal TV interview after the European Space Agency made history last week. But when the blogosphere blew up with accusations of misogyny, Taylor tearfully told the world he was sorry for his sartorial stumble.
"I have made a big mistake," he said. "I have offended people and I am sorry about this."
Bollocks, said Johnson, the New York-born, loose cannon of London. In a column for the Telegraph, Johnson said the apology made him angry.
[pullquote]
"I watched that clip of Dr. Taylor's apology – at the moment of his supreme professional triumph – and I felt the red mist come down," Johnson wrote. "It was like something from the show trials of Stalin, or from the sobbing testimony of the enemies of Kim Il-sung, before they were taken away and shot. It was like a scene from Mao's cultural revolution when weeping intellectuals were forced to confess their crimes against the people."
Those politically-correct Earthlings who ensured Taylor was "bombarded across the Internet with a hurtling dustcloud of hate" should be ashamed of themselves, Johnson wrote. After all, Taylor may study heavenly bodies, but he is not a priest.
[image]
"He is a space scientist with a fine collection of tattoos, and if you are an extrovert space scientist, that is the kind of shirt that you are allowed to wear," Johnson wrote.
The nimble-minded mayor went on to point out that the treatment of Taylor represented a double-standard when juxtaposed to that afforded Kim Kardashian; the shirt showed no exposed nipples or buttocks; and more nudity can be seen at the National Gallery than hanging in Taylor's closet.
"What are we all – a bunch of Islamist maniacs who think any representation of the human form is an offence against God?" Johnson thundered. "This is the 21st century, for goodness' sake."
The shirt was a birthday present from Taylor's friend, Elly Prizeman. She defended him as an "amazing, kind, loving and sensitive person," and said the episode has prompted several people to inquire about buying similar shirts.
And in the academic community, noted biologist and atheist Richard Dawkins tweeted that real feminists laud Taylor for his work and don't worry about his duds.
"Many congratulations to Matt Taylor and the Rosetta team on an amazing feat of space engineering. Such things make me proud to be human," Dawkins tweeted.
And in another tweet, Dawkins wrote:  "Do not blame feminism for the pompous idiots whining about a Rosetta scientist's shirt. True feminism is bigger and better than that."