JetMan Quietly Makes Historic Flight Over Grand Canyon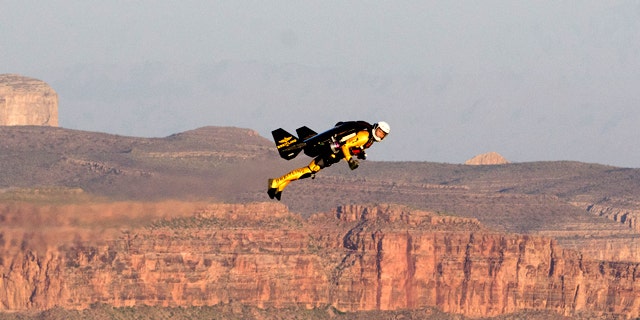 NEWYou can now listen to Fox News articles!
With a pair of rockets strapped to his back, Swiss adventurer "JetMan" Yves Rossy soared over the Grand Canyon over the weekend, marking the flying man's first U.S. flight.
Steering only with movements of his body, JetMan launched from a helicopter at 8,000 feet over the canyon and skimmed the walls of one of the America's grandest natural formations on a sunny weekend morning, before deploying his parachute and descending to the Canyon floor.
Just don't ask when it happened.
While a spokeswoman for the adventurer said that the flight was a success, and issued a picture of Rossy over the Grand Canyon, she could not specify what time Rossy flew, or even whether the flight was on Saturday or Sunday.
"My first flight in the U.S. is sure to be one of the most memorable experiences in my life," Rossy said in a press release issued Tuesday. "Not only for the sheer beauty of the Grand Canyon but the honor to fly in sacred Native American lands."
"Thank you Mother Nature and the Hualapai Tribe for making my lifelong dreams come true."
The adventurer was unavailable for comment after the event, which representatives said was staged quietly over the weekend -- because the historic flight was merely a test run.
The Hualapai Tribe calls the rugged area home, and gave assent for Rossy to fly near Eagle Point on the tribe's reservation, an event that occured days after JetMan abruptly cancelled a planned press event with little explanation.
The adventurer claimed complications with the Federal Aviation Administration led him to scrap his first flight, though a representative for the FAA told FoxNews.com that Rossy simply didn't request a permit early enough. Indeed, the spokesman explained that the agency reached out to Rossy to warn him of the need for a permit, and struggled with how to define his jet suit -- airplane or a power glider?
Rossy, who calls himself the JetMan, has rocketed above the English Channel and the Swiss Alps in his custom-built wing suit. Rossy's jet suit averages 124 mph and has a 6.5-foot wing span; he wears it on his back, sending fuel to the four engines with a slight roll of his hand. The FAA ultimately grouped it with airplanes.
The agency usually requires 25 to 40 hours of test flights but waived that rule for Rossy, saying he already had a significant amount of flight time with the jet suit.
The Hualapai Reservation is known for the Grand Canyon Skywalk, a glass bridge that extends 70 feet from the canyon's rim and gives visitors a view of the river. The reservation lies west of Grand Canyon National Park.
The Associated Press contributed to this report.