Is there a God? Einstein's famous letter up for auction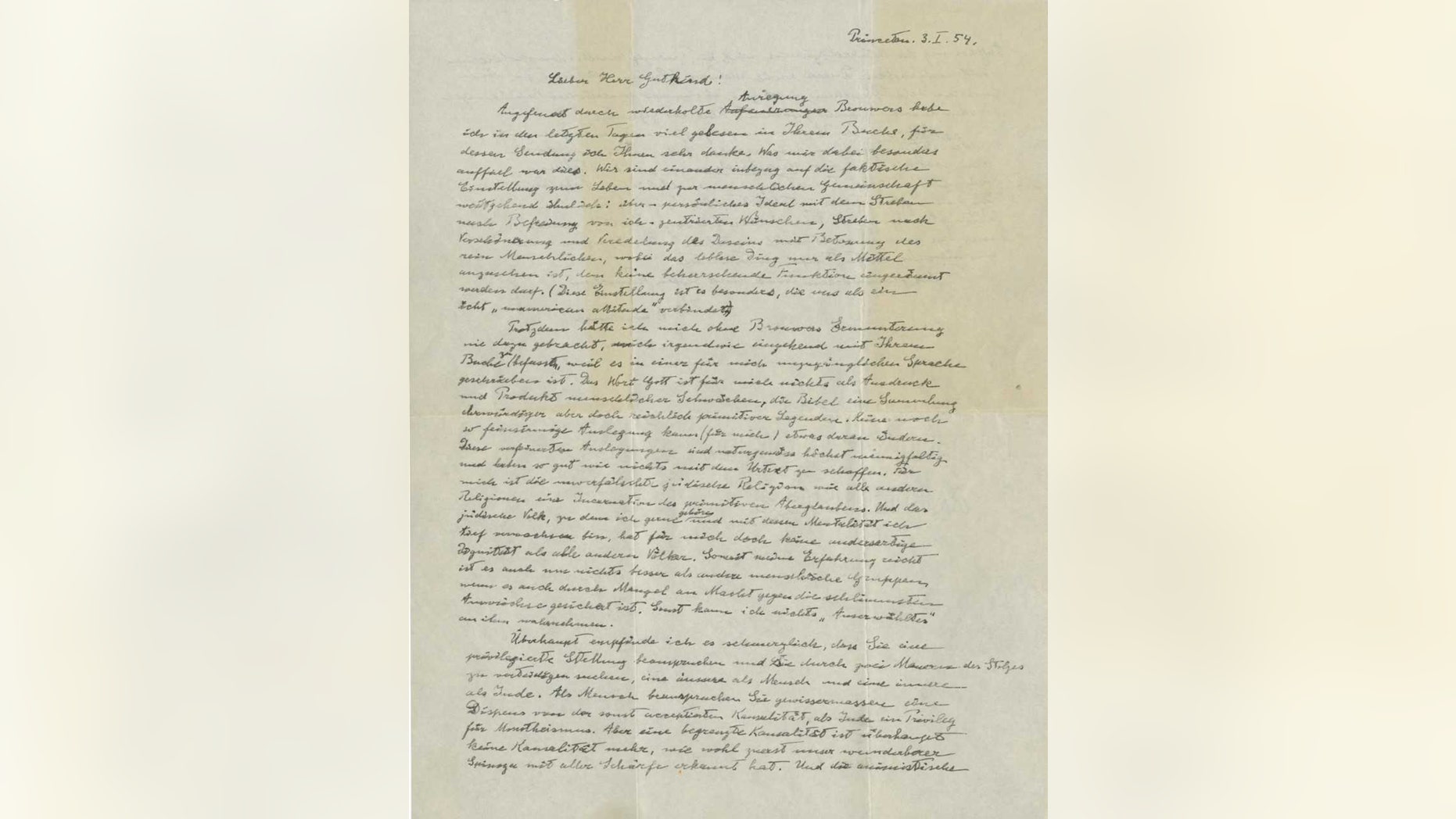 Long synonymous with intelligence, German-born theoretical physicist Albert Einstein developed the theory of relativity, considered to be one of the staples of modern science. But the ever-loquacious Einstein, who penned several letters throughout his life on such heady topics as the rise of Nazi Germany and the theory of happiness, also wrote about a topic that he grappled with until his death in 1955 – God and the larger context of religion.
Known as "Einstein's single most famous letter on God, his Jewish identity, and man's eternal search for meaning," auction house Christie's will be auctioning off the two-page letter on Tuesday. It is expected to sell for between $1 million and $1.5 million, as collectors look to obtain a piece of Einstein memorabilia unlike almost anything else.
"This remarkably candid, private letter was written a year before Einstein's death and remains the most fully articulated expression of his religious and philosophical views," Christie's said in a statement on its website.
EINSTEIN'S THEORY OF GENERAL RELATIVITY JUST SURVIVED A MASSIVE CRASH IN OUTER SPACE
In the letter, Einstein says that for him, the word God is "nothing but the expression and product of human weakness, the Bible a collection of venerable but still primitive legends."
Einstein goes on to write: "No interpretation, no matter how subtle, can (for me) change anything about this. These refined interpretations are naturally very diverse, and have virtually nothing to do with the original text. For me the unadulterated Jewish religion is, like all other religions, an incarnation of primitive superstition. And the Jewish people to whom I gladly belong, and in whose mentality I feel profoundly anchored, still for me does not have any different kind of dignity from all other peoples. As far as my experience goes, they are in fact no better than other human groups, even if they are protected from the worst excesses by a lack of power. Otherwise I cannot perceive anything 'chosen' about them."
The letter is dated January 3, 1954, approximately a year before Einstein passed away. It is addressed to German philosopher Eric Gutkind and is written in his native German.
Last month, Sotheby's offered up for auction a Bible inscribed by Einstein in 1932, but failed to sell. The leatherette-bound Bible, which was a gift from Einstein and his wife, Elsa to an employee of the couple, Harriet Hamilton, was inscribed with: "This book is an inexhaustible source of living wisdom and consolation." It was estimated that it would sell for between $200,000 and $300,000.
EINSTEIN'S DIARIES CONTAIN SHOCKING DETAILS OF HIS RACISM
Several of Einstein's letters have sold at auction in recent memory, ranging in size and scope.
In June, two letters written by the world-renowned scientist went up for auction, which detailed his escape from the Nazis and his work helping Jews escape Hitler's regime. Both letters were written to his sister, Maja Winteler-Einstein. The first was written on March 28, 1933, aboard the S.S. Belgenland on the day he renounced his German citizenship.
The second was written on Dec. 14, 1938, attempting to persuade Maja to leave Switzerland and come to the U.S. as he attempted to help Jewish refugees escape the Nazi regime.
In October 2017, Einstein's note on the theory of happiness sold to an unknown buyer at a Jerusalem auction for $1.56 million.
Einstein died in 1955 at the age of 76.
The Associated Press contributed to this story. Follow Chris Ciaccia on Twitter @Chris_Ciaccia