Greenhouse Gases at Highest Level Ever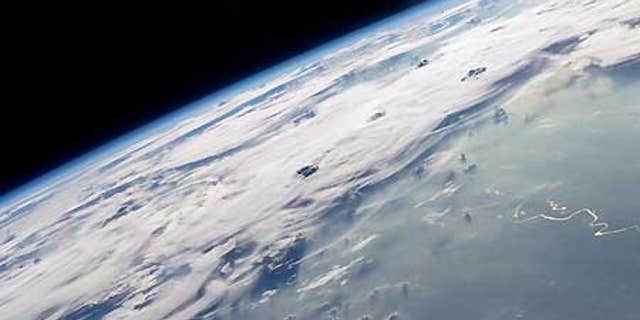 NEWYou can now listen to Fox News articles!
GENEVA — Greenhouse gases in the Earth's atmosphere reached record highs in 2008, with carbon dioxide levels increasing faster than previously, the U.N. weather agency said Monday.
Levels of greenhouse gases, believed to be responsible for global warming, have been rising every year since detailed records started being kept in 1998, the World Meteorological Organization said.
It follows a trend of rising emissions that began with the Industrial Revolution in the mid-18th century, the agency said.
The report by the World Meteorological Organization comes as the European Union urged the United States and China on Monday to set targets for cutting greenhouse gas emissions at next month's climate conference in Copenhagen. The European Union said delays by those countries were hindering global efforts to curb climate change.
The gases — carbon dioxide, or CO2; nitrous oxide, N2O; and methane, CH4 — are produced partly by natural sources, such as wetlands, and partly by human activities such as fertilizer use or fuel combustion.
"Concentration of greenhouse gases continued to increase, even a bit faster," the organization's chief, Michel Jarraud, told reporters in Geneva.
Carbon dioxide — the main greenhouse gas in the atmosphere — was 385.2 parts per million in 2008, up 2 parts per million from 2007, the World Meteorological Organization said.
The CO2 content in the atmosphere rose slightly faster in 2008 than over the last decade when the growth rate was 1.9 parts per million, Jarraud said.
"It's significant because what we would like is to see a decrease in the increase," he said.
Nitrous oxide increased by 0.9 parts per billion over the previous year to 321.8 parts per billion.
Methane concentration in the atmosphere was 1,797 parts per billion, up 7 parts per billion from the previous year.
The year-to-year increase may appear small. But compared to the time before the Industrial Revolution, the levels have increased massively, the World Meteorological Organization said.
Since 1750, CO2 has increased 38 percent, nitrous oxide 19 percent and methane 157 percent, according to WMO.
The agency's annual Greenhouse Gas Bulletin provides widely accepted worldwide data on the amount of heat-trapping greenhouse gases in the atmosphere.
It takes time to see the impact of greenhouse gas emissions because of the long time they remain in the atmosphere, said Oksana Tarasova, a specialist with the organization.
"Even if we stop all the emissions right now, after 100 years, 30 percent of the amount added to preindustrial level will remain in the atmosphere," she told reporters.
Jarraud said if emissions continue to grow, the world is likely to face the more pessimistic scenarios laid out by climate experts.
The Intergovernmental Panel on Climate Change has said if nothing is done to stop emissions, global temperatures could rise as much as 6 degrees Celsius (11 degrees Fahrenheit) by 2100, triggering droughts, floods and other disasters.