First Space Shuttle, Now SpaceX: Delays Dog Rocket Launches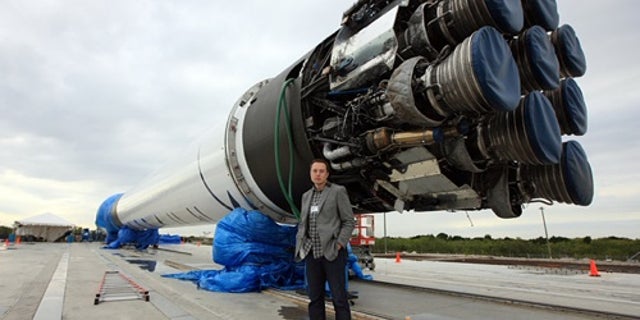 NEWYou can now listen to Fox News articles!
CAPE CANAVERAL, Fla. – Technical issues have forced Space Exploration Technologies to postpone Tuesday's planned launch of its Falcon 9 rocket and Dragon capsule, which NASA wants for cargo runs to the International Space Station after its space shuttles are retired next year.
Technicians found what appear to be cracks in the nozzle of the rocket's upper-stage motor, prompting a delay to Thursday at the earliest, company President Gwynne Shotwell told reporters Monday.
If the nozzle needs to be replaced, launch likely would not be attempted until Friday or Saturday, she added.
The flight is the first of three planned to demonstrate the rocket and capsule's capability to deliver cargo to the space station for NASA following the last few flights of the space shuttle. The delays come on the heels of a series of delays that pushed off the final launch of space shuttle Discover from its scheduled take off in November -- first by a few days, but ultimately until February at the earliest.
For Dragon's debut, Space Exploration Technologies, also known as SpaceX and owned and run by Internet entrepreneur Elon Musk, plans to put the capsule into a circular orbit about 185 miles above the planet that is inclined 34.5 degrees relative to the equator.
It will not go near the space station, which is located in a 220-mile, 51.6-degree inclination orbit.
Once in space, the capsule is designed to run through a preprogrammed set of maneuvers to test its steering thrusters, navigation system and other equipment critical to flight, then fire its braking rockets to leave orbit.
If all goes as planned, the capsule will parachute back to Earth and splash down in the Pacific Ocean 500 miles west of Mexico.
NASA, which is contributing up to $278 million for the rocket and capsule development, played down the importance of a successful first flight.
"This is a test flight. There is undoubtedly going to be some obstacles," said Phil McAlister, who oversees commercial spaceflight development for the U.S. space agency.
SpaceX and a second company, Orbital Sciences Corp., share contracts worth $3.5 billion to deliver cargo the station. Flights are scheduled to begin as early as December 2011.