Facebook Unveils Location Service Dubbed 'Places'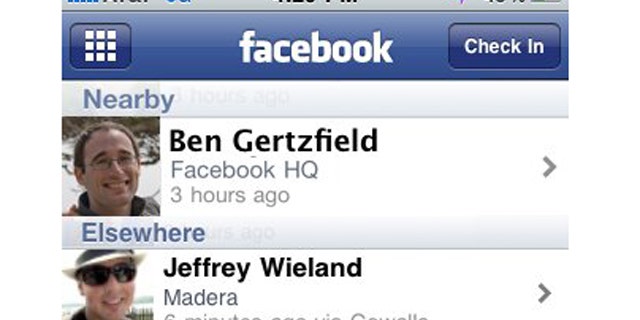 NEWYou can now listen to Fox News articles!
Facebook unveiled a new way for users to share their physical locations online, extending the social-networking giant's reach into the real world even as it opens itself to new potential concerns about privacy.
While Facebook stopped short of announcing how it would make money off its location services, the move paves the way for the company to become a major player in the growing business to supply local information and advertising, rivaling efforts by Google Inc. and others.
The new service, called Places, allows Facebook users to tap the location-sensing capabilities of their mobile phones to "check in" to a business or address and then instantly share it with their Facebook connections. The optional service will also allow users to find other people who have also recently logged their presence physically nearby.
Places will "help people stay connected everywhere they go, not just at their computer," said Facebook Chief Executive Mark Zuckerberg at an event at the company's Palo Alto, Calif., headquarters.
While location-based mobile-app companies such as Foursquare Labs Inc. have drawn attention from early adopters and investors, Facebook's entry into the market could help make the idea of sharing one's location with friends and businesses become mainstream. The company already has 150 million users of its service on mobile phones, although the Places service will initially only be available on an app for Apple Inc.'s iPhone and through an enhanced mobile website.
Still, adding location information to the data that Facebook collects and mines about its 500 million users could open the company to new criticism from privacy advocates and regulators. Facebook executives said they built in privacy controls to protect sensitive location information, such as limiting the default visibility of check-ins to friends only.
Click here to read more on this story from The Wall Street Journal