Experts proclaim newly-named Patagotitan dinosaur species the largest ever discovered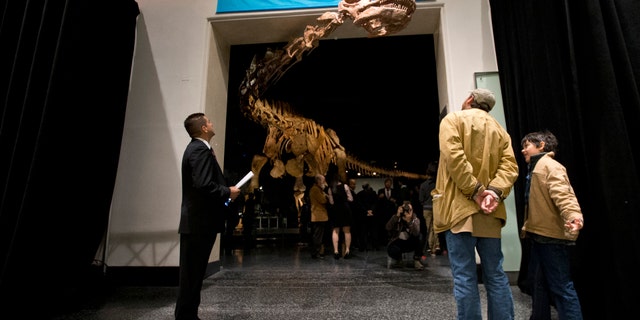 A newly-named dinosaur species that was as heavy as a space shuttle has been declared the largest ever by experts.
A study published this week describes the 76-ton Patagotitan as the biggest of a group of large dinosaurs called titanosaurs. The announcement follows the discovery of Patagotitan fossils in southern Argentina in 2012.
The new giant titanosaur "represents the largest species described so far and one of the most complete titanosaurs," explained the researchers in the study published Tuesday in the journal Proceedings of the Royal Society B.
10 YEAR-OLD TRIPS INTO MILLION-YEAR-OLD FOSSIL DISCOVERY IN NEW MEXICO
"There was one small part of the family that went crazy on size," said Diego Pol of the Egidio Feruglio paleontology museum in Argentina, co-author of the study.
The researchers named the dinosaur Patagotitan mayorum after the Patagonia region where it was found and the Greek word titan, which means large. The second name honors a ranch family that hosted the researchers.
Six fossils of the species were studied and dated to about 100 million years ago, based on ash found around them, Pol said. The dinosaur averaged 122 feet long and was nearly 20 feet high at the shoulder.
DINO BLUNDER: MUSEUM CHANGES DINOSAUR DISPLAY AFTER 10-YEAR-OLD POINTS OUT ERROR
The new dinosaur species serves as the model for a 122-foot dinosaur skeleton at the American Museum of Natural History in New York. The Museum is hosting an event Wednesday to celebrate the announcement of the dinosaur's scientific name. The titanosaur is so big that its head sticks out into a hallway at the famous museum.
Scientists have known titanosaurs for a while, but this is a new species and even a new genus, which is a larger grouping, Pol said. Another titanosaur called Argentinosaurus was previously thought to be the largest.
"I don't think they were scary at all," Pol said. "They were probably massive big slow-moving animals."
DINOSAURS BEHEADED: VANDALS ATTACK DINO MODELS AT MUSEUM
"Getting up. Walking around. Trying to run. It's really challenging for large animals," he said.
Scientists are still studying how the dinosaurs grew so big, but say that it probably had to with an explosion of flowering plants at the time.
Museums' dinosaur displays have been in the news during the last few weeks. The Natural History Museum in London, for example, recently confirmed that it is changing a dinosaur display after a 10-year-old boy pointed out an error.
LOCH NESS MONSTER REDUX? 'DINOSAUR-LIKE-CREATURE' REPORTEDLY SPOTTED IN NORTH CAROLINA LAKE
Police in Canberra, Australia, were recently called to investigate the beheading of three dinosaur models at the country's National Dinosaur Museum.
The Associated Press contributed to this article.