Drought drops an important California lake near the 'dead zone'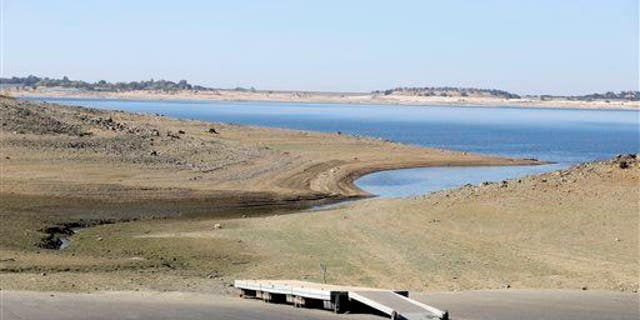 It was already one of the most iconic visuals of California's historic drought, and things have only gotten worse. Gizmodo reports few people—even in California—were aware of the severity of the ongoing drought when it was officially declared in 2012.
That changed in 2014 when before and after photos of Folsom Lake went viral. "The first photo: A seemingly infinite deep blue pool, a white blur of water gushing over the spillway," Gizmodo describes.
"The second photo: A dusty rock-strewn landscape that was more Mars than California." On Sunday, the Northern California lake—which supplies drinking water to half a million people—hit a record low of 140,410 acre feet, according to CBS Sacramento.
The previous low of 140,600 was set in 1977. The lake can hold 975,000 acre feet when full, but it's now approaching the 100,000 acre feet "dead zone," at which point it would be too low to reach intake pipes, affecting water for three cities.
The water level dropped 3 feet in September alone, and even this winter's much ballyhooed El Niño is unlikely to solve the problem. "We may have a very wet winter, but if we don't have dramatic snowfall and so forth we've got to still be conscious we're still living through this drought," a local politician tells CBS.
Officials are proposing a new reservoir nearby to help store water. And according to Gizmodo, the state is installing emergency pumps to avoid the "dead zone." (Listen carefully, and you can hear the drought.)
This article originally appeared on Newser: Drought Drops Key Calif. Lake Near 'Dead Zone'
More From Newser