Disturbing video shows lions playing with plastic bag in Africa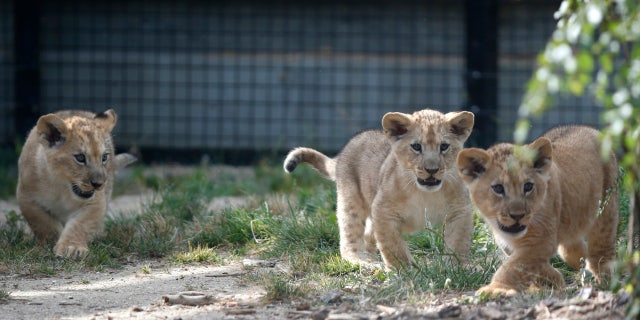 A disturbing video has been released, showing a group of lions in the African Savanna playing with a plastic bag.
The video, posted to YouTube by a wildlife filmmaker known as Rob the Ranger, highlights the dangers plastic bags can have on unsuspecting animals who think it is a play thing.
In the video description on YouTube, Rob the Ranger writes that, after the lions dropped the bag, he waited for them to move off so that he could pick it up.
KILLER WHALES ARE DYING OFF IN THE PACIFIC NORTHWEST
The video was taken at the Sabi Sand Wildtuin wildlife reserve in South Africa. On its website, the reserve lists three main projects: community, conservation and saving rhino.
"The integrity of South Africa's protected areas is important not only to preserve some of the most diverse habitats and ecosystems on earth but also to secure this legacy for future generations," the reserve writes at the top of its website.
It is not known where the bag came from but Rob the Ranger speculated it could have been brought into the reserve by a hyena who may have been scavenging bins at a nearby lodge.
"The bag may have gotten into the bush by hyenas or baboons taking it from a lodge as there are no routes in the area for the general public to drop litter on. any lodges have pledged to reduce plastic pollution already," Rob added in the video description.
The video and accompanying images were first published and reported by the Daily Mail.
SOMEONE JUST KILLED ONE OF THE LAST REMAINING JAGUARS IN THE US
Plastic conservation and bans have come into the spotlight, as companies and cities work to promote environmental conservation.
Starbucks recently said it would ban plastic straws by 2020, citing environmental reasons. Seattle, where Starbucks is headquartered, recently became the first U.S. city to ban plastic straws and utensils.
There are also calls for other major corporations, such as McDonald's to do away with plastic at its stores (it is currently working to remove plastic straws from its UK restaurants).
The CEO of PRIMASTRAW, a company that makes straws for major companies, recently told Yahoo Finance that Starbucks was making the "right decision" to ban plastic straws.
GRAPHIC IMAGES: ENDANGERED FIN WHALES SLAUGHTERED IN ICELAND
The videos also highlight how fragile the African lion population has become, declining by an estimated 43 percent to approximately 20,000 over the past two decades, according to WildAid.
Follow Chris Ciaccia on Twitter @Chris_Ciaccia