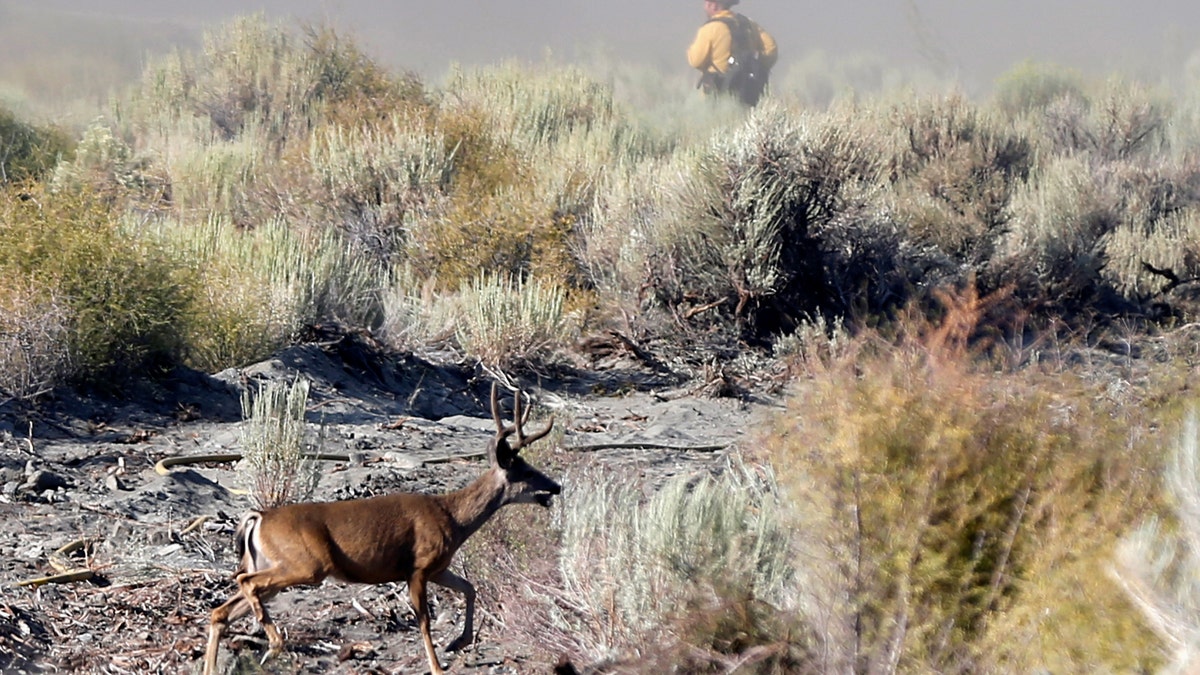 As authorities in California battle devastating wildfires across the state, experts are weighing the infernos' effects on wildlife.
The weeks-long Soberanes Fire near Big Sur, for example, has been burning through areas of sagebrush, an important animal habitat.
"[Sagebrush destruction] greatly affects the wildlife that depends on it," a spokeswoman for the Bureau of Land Management told FoxNews.com. Sagebrush provides food and shelter to more than 300 species, such as sage grouse, the sagebrush lizard and various songbirds, she added.
The spokeswoman noted that when sagebrush is destroyed, invasive weeds often take over. "It can take up to 40 or 50 years for sagebrush to grow back," she said.
The Soberanes Fire, which has been burning since July 22, has spread across 79,000 acres and is 60 percent contained, Cal Fire said Thursday evening.
California's rich natural environment means that wildfires are tearing through multiple ecosystems.
In Southern California, firefighters are attempting to control the Blue Cut Fire north of San Bernardino that has reportedly burned dozens of buildings and forced more than 82,000 people to evacuate their homes. The inferno that started out Tuesday as a small patch of flame next to Interstate 15 in the Cajon Pass had scorched 35,969 acres and was 22 percent contained by Thursday, according to Cal Fire.
"A fire of that size might take out focused resources [for animals] such as springs or riparian woodlands, that are already rare in that environment," Thomas Scott, a natural resource specialist at the University of California, told FoxNews.com.
Riparian woodland that adjoins a river or stream can be a rich habitat for wildlife, and is an important part of an area's ecosystem.
"This is an area that doesn't have a lot of woodland -- it's largely a transition zone between mountain and desert," Scott explained. "In these mountain transitions there are a lot of plant species that are only found in certain areas."
The area, for example, is home to the rare San Bernardino Mountains Monkeyflower.
The Blue Cut fire came after several steady weeks of major fires in drought-ravaged California, even though the full force of the traditional fire season has yet to arrive.
Experts in Northern California also have been assessing the fires' impact, which varies dramatically from area to area, according to Rick Macedo, chief of the California Department of Fish and Wildlife's Habitat Conservation Planning Branch.
The effects of the Clayton Fire, for example, which is in Oak woodland northwest of Sacramento, will be very different from last year's nearby Valley Fire that spread across 76,000 acres, he explained.
"In Oak woodland, the fire goes through the grasses," he said, noting that thick trunks also help woodland trees survive. "After the fire goes through, you will see things like creeks flow with more water because some of the vegetation has been taken up by the fire."
The feeding habitat for many animals can actually improve after a woodland fire as younger, more nutritious shrubs emerge from the burned soil the following spring, according to Macedo.
However, the Valley Fire, which occurred in a higher elevation, cooler, coniferous forest, caused much more long-term damage. "The fire 'crowned' in the trees, burning canopies," Macedo said. "In the coniferous forest the trees are less resilient -- there will be no acorn production because the trees are dead and there's limited nesting for birds."
Set against this backdrop, it could take a decade for some plant species to return, limiting the food available for animals.
"The first animals you would expect to reoccupy the burned area will be birds that can fly in and out, and small mammals like mice," Macedo added. "The slowest group to return is the carnivores like foxes and mountain lions -- they need the small mammals to provide them with food."
No data is available on the number of animals expected to perish in California's wildfires, although studies of other fires indicate that many animals were able to escape the infernos. Researchers, for example, were surprised that a fire at Yellowstone National Park in 1988 did not take a higher toll on wildlife.
A U.S. Forest Service report on the 2013 Rim Fire in California's Stanislaus National Forest found that many bats and birds flew away from danger, and small animals like lizards, snakes and gophers escaped into burrows or unburned areas. Many of the forest's population of California mule deer were at higher elevations when the fire occurred, so were saved.
However, squirrels and wood rats may not have been as fortunate, the report said, noting that some skunk, coyote and bear probably died in the fire.
A California man was arrested Monday on arson charges for allegedly sparking the Clayton Fire, which spread across 3,929 acres Friday. Cal Fire says that the blaze is 65 percent contained.

The Associated Press contributed to this report.
Follow James Rogers on Twitter @jamesjrogers