California Requires More Energy-Efficient TVs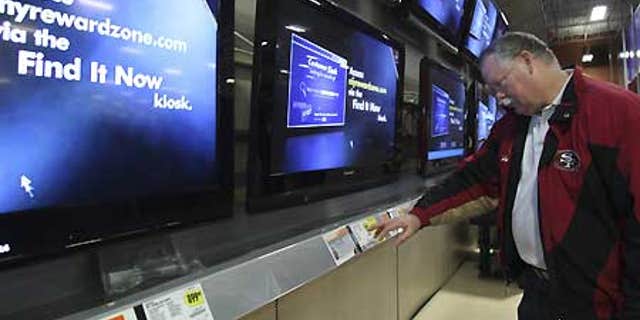 NEWYou can now listen to Fox News articles!
SACRAMENTO, California – California regulators have adopted the first energy-efficiency standards for televisions in the U.S., a move that will eventually ban power-hungry sets from the state's store shelves.
Wednesday's action by the California Energy Commission could lead the way in a general reform of standards for an industry increasingly focused on wide-view, flat-screen, high-definition sets.
The 5-0 vote by the California Energy Commission is just the latest effort by the state to secure its place in the forefront of the environmental movement.
California represents such a big consumer market that environmental groups hope the new standards will lead manufacturers to make energy-saving TVs for the rest of the nation, just as California's stringent fuel standards for cars and trucks forced automakers to produce more efficient models for all of the U.S.
"Once again, California is leading the way, and we hope others will follow," said Noah Horowitz, senior scientist at the Natural Resources Defense Council.
Some manufacturers warned that the regulations will cripple innovation, limit consumer choice and hurt California stores, because people could simply buy TVs out of state or online. The industry also complained that manufacturers will be forced to make televisions with poorer picture quality and fewer features than those sold elsewhere in the U.S.
"Instead of allowing customers to choose the products they want, the commission has decided to impose arbitrary standards that will hamper innovation and limit consumer choice," said Jason Oxman, a vice president with the Consumer Electronics Association. "It will result in higher prices for consumers, job losses for Californians, and lost tax revenue for the state."
Californians buy about 11 percent of the 35.4 million TVs sold in the U.S. each year, according to industry figures. The industry group said it was already working with the federal government to promote more efficient TVs through the federal Energy Star program.
"We have every confidence this industry will be able to meet the rule and then some," Energy Commissioner Julia Levin said. "It will save consumers money, it will help protect public health, and it will spark innovation."
At least one TV manufacturer has said it could meet the standards -- Vizio Inc., the largest seller of flat screens.
The regulations requiring televisions to be more efficient will be phased in beginning in 2011.
The new standards will apply to new televisions up to 58 inches. Those larger than 58 inches, which account for no more than 3 percent of the market, were left out in a concession to sellers of high-end home-theater TVs. But the commission is expected to regulate them in the future.
The commission estimates that TVs account for about 10 percent of a home's electricity use. The fear is that energy use will rise as people buy bigger, more elaborate TVs, put more of them in their homes, and watch them longer.
The average plasma TV uses more than three times as much energy as an old cathode-ray tube set. Liquid-crystal display, or LCD, TVs use about 43 percent more energy than tube sets, according to Pacific Gas & Electric Co., the state's biggest utility. LCDs now account for about 90 percent of the 4 million TVs sold in California each year.
Under the rules adopted Wednesday, all new 42-inch TV sets must use less than 183 watts by 2011 and less than 116 watts by 2013.
That is considerably more efficient than flat-screen TVs placed on the market in recent years. A 42-inch Hitachi plasma TV sold in 2007 uses 313 watts, while a 42-inch Sharp Liquid-crystal display, or LCD, TV draws 232 watts, according to the Energy Commission.
The energy commission previously set aggressive energy-efficiency standards for refrigerators, washing machines and other household appliances, paving the way for more efficient models sold nationwide.