Are Arkansas Quakes Manmade? Business Halts as Scientists Decide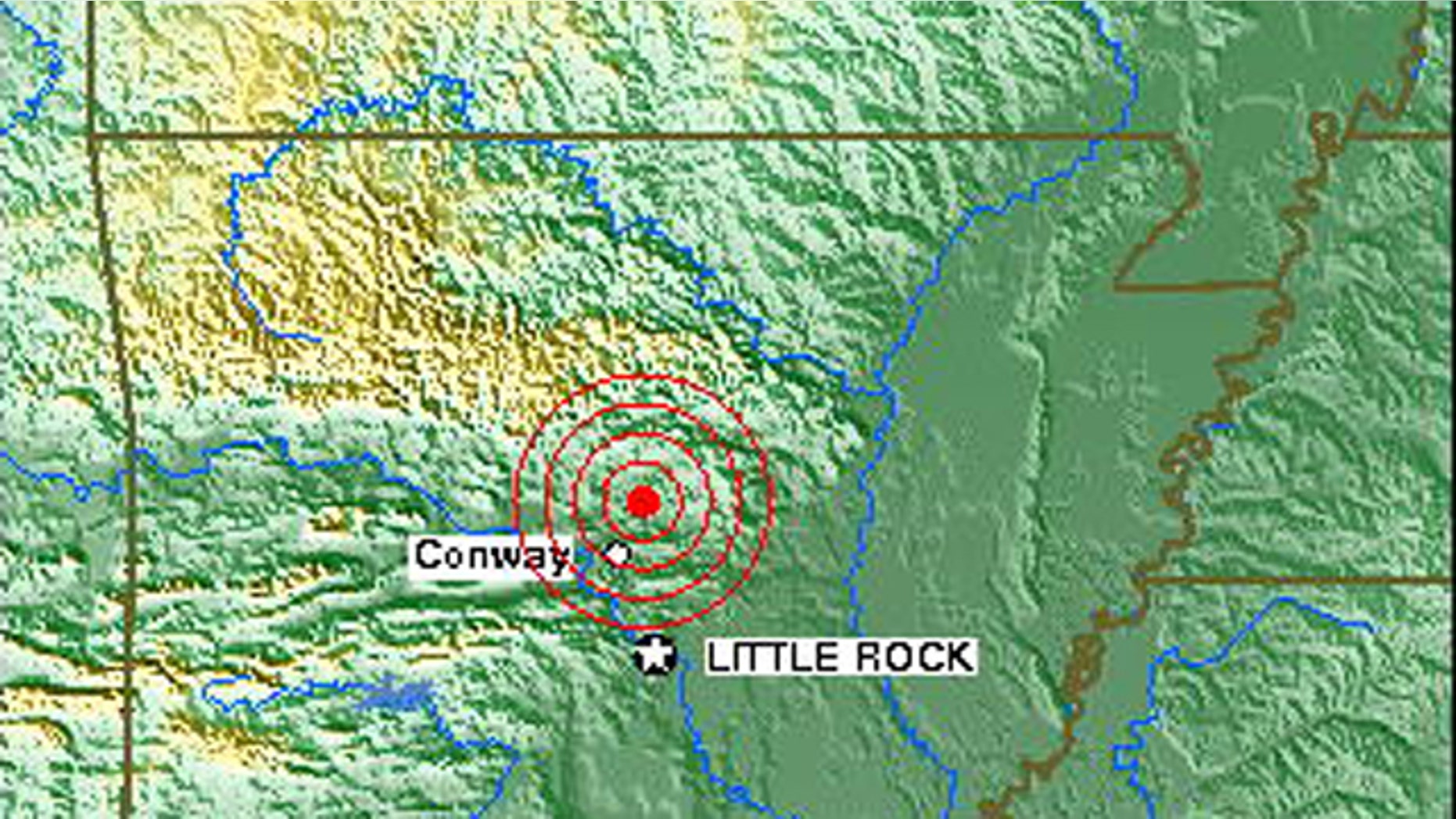 LITTLE ROCK, Ark. – With evidence mounting that a swarm of earthquakes shaking Arkansas are manmade, two natural gas companies have agreed to temporarily suspend activities while scientists sort it all out.
That may take some time.
Scientists have for years been hesitant to state definitively that earthquakes can be caused by injection wells, which are used to shoot large volumes of wastewater from oil drilling operations back into the earth. But while causality remains unclear, the correlation between the two was enough to drive Oklahoma City-based Chesapeake Energy and Clarita Operating of Little Rock to halt operation of two wells, following an emergency meeting of the Arkansas Oil and Gas Commission on Friday.
"Based on that evidence, as well as other expert testimony, they've interpreted that evidence and determined there is a correlation between these two wells and seismic activity," Shane Khoury, deputy director and general counsel for the commission, told FoxNews.com.
On Sunday, a magnitude 4.7 quake rocked the area, the strongest earthquake in Arkansas in 35 years. The U.S. Geological Survey has recorded dozens of small earthquakes in the area over the past few weeks as well, ranging in magnitude from 1.8 to 3.8.
Steve Horton, an earthquake specialist at the University of Memphis and hydrologic technician with the U.S. Geological Survey, told FoxNews.com earlier in the week that he felt a connection between the two was likely.
"Ninety percent of these earthquakes that have happened since 2009 have been within 6 kilometers of these salt water disposal wells," he told FoxNews.com. The timing is too coincidental to ignore, Horton said.
"They started doing these injection wells in the area that we're talking about in April of 2009. Since that time, there has been an increase in the rate of seismicity," Horton told FoxNews.com. "The increase in the rate of activity we've seen is temporally associated with the use of these wells to dispose of fluids in the subsurface."
The oil industry was quick to note that the issue is not associated with the drilling process itself. The problem lies with wastewater disposal, said Lee Fuller, a spokesman for the Independent Petroleum Association of America, and not hydraulic fracturing, or "fracking," in which water is injected into the ground at high pressure to fracture rock and release natural gas trapped within it.
"There's a tendency to suggest that anything related to the production of water for drilling is related to fracturing. And that's not true," Fuller told FoxNews.com. Fracking has benefits, he noted, such as reducing the number of oil wells drilled, he said.
"If there's an issue of increased disposal, it's because the Fayetteville area has a lot of activity," Fuller said, noting that that disposal wells have been in use nationwide for decades.
Mike Nikolaus, special projects director for the Groundwater Protection Council, agreed that the wells have a lengthy history.
"Injection wells are a tech that's been in operation at least as long as the fracturing, if not longer," he told FoxNews.com.
But the rate of injection with the wells may be the central issue. And that's an issue largely ungoverned by national permits, Nikolaus said, which focus largely on the pressure the injections create in the earth.
"In actuality, the program doesn't have much to say about [rate]," he said.
There are seven injection wells in operation in this area of Arkansas, Khoury said, and hundreds of them elsewhere in the state. Khoury said that the Arkansas Oil and Gas Commission believes the two closed wells are near a previously unknown or unmapped fault, leading to these specific issues.
"In Arkansas, this is the only place we've seen this type of activity," Khoury told FoxNews.com. "We think it's very unique to this area."