Alligator spotted near North Carolina Marine barracks, officials warn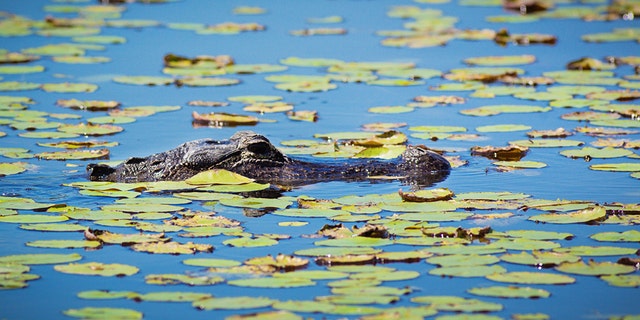 An alligator was spotted near the barracks of the Marine Corps Air Station New River in Jacksonville, North Carolina, officials said.
A video posted on the air station's Facebook page shows the gator emerging from the water, quickly moving toward the videographer as he or she throws a blade of grass toward it. The gator, which has been "actively fed" by humans, likely thought the grass was food.
"Unfortunately, people have been actively feeding this alligator which is why it moved towards the camera when a piece of grass was thrown its way," the Marine Corps Air Station New River wrote in a Facebook post.
FLORIDA WOMAN SHOCKED BY 'HISSING' ALLIGATOR IN GARAGE: 'IT WAS A BIG BOY'
"In addition to being illegal, feeding an alligator is dangerous and creates a safety issue if they become habituated to being fed by humans," the officials added.
Wildlife personnel at New River were first to spot the gator, which is estimated to be 6 feet long, Military.com reported.
GIANT ALLIGATOR IN SOUTH CAROLINA ATTEMPTS TO SCALE FENCE TO ESCAPE TRAPPERS
"It was tracking these officials as they approached the pond and started swimming toward them," Kirk Kropinack, director of the air station's installation and environment department, told Military.com.
In the past, gators have been found on the base's parking lots and airfield.
"In the case of this specific alligator, plans were in the works to capture and relocate it to a remote location elsewhere on the installation," the Marine Corps Air Station New River said. However, the gator moved to an unknown location before officials were able to capture it.
Officials at two Marine Corps bases — the Marine Corps Base Camp Lejeune and Marine Corps Air Station New River — ask anyone who spots an alligator and believes it to be a safety concern to call wildlife officials.