47,000 Volcano Refugees Celebrate Tough Christmas in Philippines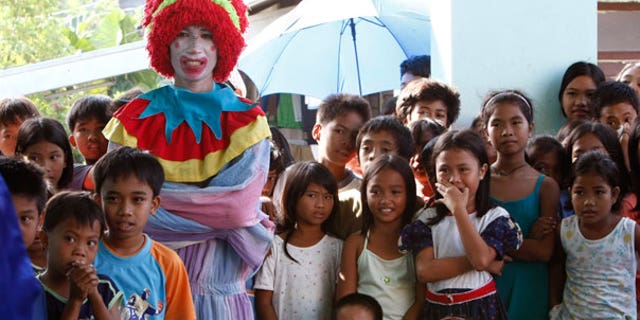 NEWYou can now listen to Fox News articles!
LEGAZPI, Philippines -- Some 47,000 Filipinos who fled their homes in anticipation of the eruption of the Mayon volcano shared rations of noodles, fried fish and fruit to celebrate Christmas in evacuation centers. Children opened donated presents and clowns entertained the crowds, as the government tried to keep the evacuees from slipping back to their homes.
The 8,070-foot volcano known for its perfect cone has erupted nearly 40 times over 400 years, sending people packing for months at a time. But never has it happened during the all-important Christmas celebration, when Filipinos gather with family and friends for traditional meals and songs.
SLIDESHOW: Mayon Volcano Near Eruption in Philippines
"I have mixed feelings of sadness and happiness," 38-year-old vegetable vendor Estela Netuno, who spent the holiday in an evacuation center with her siblings and 9-year-old son, said Friday. "We should be home celebrating with the family, but we are here."
She said the gifts of candies and toys her son got from donors, the Christmas Eve dinner pack of noodles and fruits from the local government, and the fried fish and vegetables shared with fellow evacuees during the traditional midnight meal made them happy.
But Netuno said she missed cooking at home, and the rice cakes she usually prepares for Christmas Eve. With crammed conditions and no kitchen, she said it was difficult to do that this year.
"If we were home and we could continue to earn a living, we could cook any food we want for Christmas," she said.
On Thursday night, Masses were celebrated in evacuation centers. Evacuees received gifts or were entertained by soldiers in Santa hats who belted out songs. But the mood was subdued, with many evacuees opting to sleep before midnight.
"We have to give them Christmas Eve midnight meal so at least while in the evacuation center they can also feel the Christmas celebration," Legazpi Mayor Noel Rosal said.
Joey Salceda, the governor of eastern Albay province, where Mayon is located, said he distributed 100 peso ($2) bills to children to be spent any way they wanted.
The celebration continued Friday, with a clown's magic tricks and parlor games bringing laughter to young evacuees at an elementary school.
Evacuation centers have been the scenes of daily entertainment for the past week as officials try to keep frustrated evacuees from sneaking back to their homes.
The military was still trying to get some 600 holdout residents to leave their homes Friday in villages within the five-mile danger zone, said Capt. Razaleigh Bansawan, a military spokesman.
Chief government volcanologist Renato Solidum warned that a hazardous eruption was possible within days as Mayon's activities continue to escalate.
"It is now in a critical level or intense level of activity, so we should be careful," he said.
Ash explosions have intensified, with ash columns now reaching more than a mile tall and molten rock spewing half a mile from the summit, compared to several hundred yards two weeks ago, Solidum said.