With friends like these: Clinton think tank ally emerges in emails as scathing critic
Some of the toughest criticism leveled at Hillary Clinton in the emails released by WikiLeaks comes not from any Republican but the head of the liberal Center for American Progress – who is seen complaining about Clinton's vulnerabilities and calling her instincts "suboptimal."
Even as she was rooting for the campaign, Neera Tanden -- who replaced the target of the email hack, Campaign Chairman John Podesta, as head of the CAP in 2011 -- used pointed language to call out Clinton's initial refusal to apologize for using a private email server while secretary of state.
"Everyone wants her to apologize. And she should," Tanden wrote in one September 2015 email. "Apologies are like her Achilles heel."
Tanden's email was part of a conversation that took place shortly after Clinton gave a partial apology during a Sept. 4, 2015 interview with Andrea Mitchell of NBC News.
"At the end of the day, I am sorry that this has been confusing to people and has raised a lot of questions," Clinton said when asked about communicating on private email during her time at the State Department.
Tanden observed in the email to Podesta that "she didn't seem like a b---- in the interview" and that she would "get to a full apology in a few interviews."
In another August 2015 email, Tanden offered this particularly tough criticism of Clinton's handling of the email scandal.
"…[Her] inability to just do a national interview and communicate genuine feelings of remorse and regret is now, I fear, becoming a character problem (more so than honesty.)"
In January 2016, after the delivery of an apparently well-crafted tweet by Podesta, the campaign chairman complained to Tanden that he wanted to tweet it earlier, but it was held up.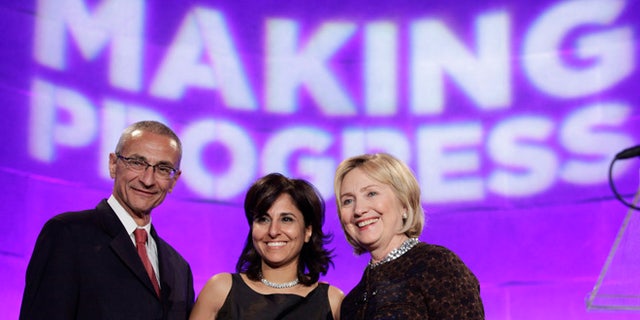 "Got held by who? Hillary. God. Her instincts are suboptimal," Tanden responded.
Tanden's criticisms in the emails weren't just focused on Clinton. In one March 2014 exchange, she said of the White House's handling of the ObamaCare rollout: "I think it was a strategic error not to fire anyone in health care."
"I'm trying to be artful here…but I do think in real life people would have gotten fired a long time ago. And not just people in the agency no one cares about," she wrote.
In March 2015, Tanden also expressed irritation with the White House for reportedly expressing concern at Clinton's silence over the email issue, saying it was going to send the scandal "into orbit."
"But the WH crapping on her is going to send this into orbit. She needs to speak publicly tomorrow," she said.
Tanden did not immediately respond to a request for comment from FoxNews.com.
Tanden has a history of harsh words against Democrats she supports. In an interview with New York Magazine, she expressed surprise that Obama is in politics at all as "he really doesn't like people."
"The truth is, Obama doesn't call anyone, and he's not close to almost anyone. It's stunning that he's in politics, because he really doesn't like people. My analogy is that it's like becoming Bill Gates without liking computers," she said.
Fox News' Serafin Gomez, Ben Florance and FoxNews.com's Adam Shaw contributed to this report.