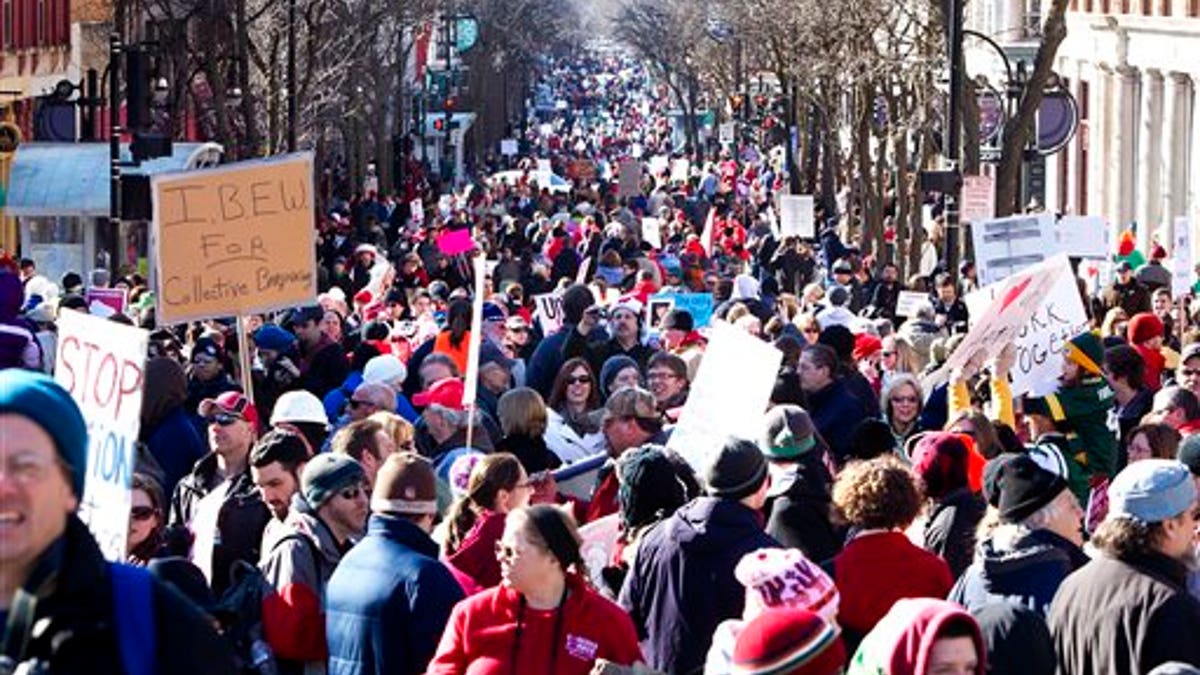 Wisconsin Republicans on Sunday upped the pressure on Democrats who fled to Illinois to return home and vote on an anti-union bill, with the governor calling them obstructionists and a GOP lawmaker threatening to convene without them.
Gov. Scott Walker said the 14 minority Democrats who left Madison on Thursday were failing to do their jobs by "hiding out" in another state. And Senate Majority Leader Scott Fitzgerald said his chamber would meet Tuesday to act on non-spending bills and confirm some of the governor's appointees even if the Democrats don't show up -- a scenario that should outrage their constituents.
Senate Democrats acknowledged that the 19 Republicans could pass any item that doesn't spend state money in their absence. The budget-repair bill they have been blocking requires a quorum of 20 senators to pass, while other measures require only a simple majority of the chamber's 33 members.
Nonetheless, Democrats said they were standing firm in their opposition to the budget-repair bill, which would take away the right of most public employees to collectively bargain for their benefits and working conditions. Hundreds of protesters filled the Capitol for a sixth straight day, noisily calling on Walker to drop the plan they consider an assault on workers' rights.
Protesters are pledging to remain in the Wisconsin Capitol while Senate Democrats are committed to staying out of state until a compromise can be found with Gov. Scott Walker on collective bargaining rights for public sector employees.
Snow that turned to freezing rain Sunday considerably reduced the protest activity in the capital of Madison as hundreds gathered inside the Capitol building. That's significantly fewer than the estimated 68,000 who demonstrated on Saturday.
But Phil Neuenfeldt, president of the state AFL-CIO, said another large protest was expected Monday, when many state workers are being furloughed to save money.
Walker has been targeted by protesters for nearly a week for negotiating a bill now in the state Senate that would require workers to increase their contributions to pensions and health care coverage, would limit collective bargaining rules and tie raises to inflation. Senate Democrats fled Wisconsin to avoid voting on the legislation.
The Republican governor said that while the state enjoys a lower-than-average unemployment rate -- about 7.5 percent compared to 9 percent nationally -- about 5,000-6,000 state workers and 5,000-6,000 local government workers will find their jobs on the chopping block as the state looks to close a $3.6 billion biennial budget gap.
"I don't want a single person laid off in the public nor in the private sector and that's why this is a much better alternative than losing jobs," Walker told "Fox News Sunday."
The state's nearly 300,000 public sector employees are being asked to give up benefits worth about $300 million over two years, or less than 10 percent of the deficit total.
"If we're going to be in this together, (cut) our $3.6 billion budget deficit, it's going to take a whole lot more than just employee contributions when it comes to pensions and health care," Walker said. "But it's got to be a piece of the puzzle because as I saw at the local level, it's like a virus that eats up more and more of the budget if you don't get it under control."
Protesters and Democratic lawmakers have likened Walker to a dictator, and demonstrators protesting the budget bill have waived signs comparing him to ousted Egyptian leader Hosni Mubarak and Adolf Hitler.
But some lawmakers are looking for a way out.
Sen. Dale Schultz, R-Richland Center, has proposed suspending collective bargaining rights temporarily to get through the state's two-year budget, but then restoring them in 2013. That idea was endorsed Sunday by the Wisconsin State Journal, the state's second largest newspaper.
Sen. Jon Erpenbach, D-Middleton, who was staying in a Chicago hotel, called Schultz brave for bucking Walker's administration with the proposal. Asked whether Democrats could accept Schultz's plan, Erpenbach said workers should not lose their rights since they have agreed to make concessions on contributions.
He said Democratic senators aren't likely to come back to the state until the governor was willing to compromise but claimed Walker's administration has not returned their phone calls.
"It's trying to slow this train down," Erpenbach said. "It's making sure that obviously everybody in the state knows what we're dealing with here. It's an opportunity for the governor to calm down, take a step back, realize what he's asking for with this legislation and hopefully come to his senses."
Walker said he hoped "cooler minds will prevail" and lawmakers will come back to vote.
"Those senate Democrats should realize, if you want to participate in a democracy, you got to be in the arena. And the arena is right here in Madison, Wisconsin. It's not hiding out in Rockford, Illinois, or Chicago, or anywhere else out there. Democracy means you show up and participate.
And they failed to do that. They're walking out on their job," he said.
On Sunday, Green Bay Packers cornerback Charles Woodson, a member of the NFL Players Association, became the latest player to back the public employees' cause. NFL owners and the players' union are locked in their own fight over a collective bargaining agreement. Along with Woodson, seven other current and former Packers have expressed support for the protesters.
While union workers say they've been blindsided by the governor's plan, which he campaigned on through the midterm election, they also say Walker has unfairly targeted public employees while giving tax breaks to businesses worth about $117 million.
"We expected concessions, but we just didn't think there was a mandate for this. We didn't see him getting rid of collective bargaining," said Gary Steffen, president of the Wisconsin Science Professionals, the union that represents state scientists, including crime lab analysts, biologists, chemists and foresters.
Walker called that a "red herring," one he repeatedly witnessed while serving as the Milwaukee County executive before becoming governor.
"If you want to have democracy, if you want to have the American way, which is allowing people to have a choice, that's exactly what we're allowing there. People see the value, they see the work, they can continue to vote to certify that union and they can continue to voluntarily have those union dues, and write the check out and give it to the union to make their case, but they shouldn't be forced to be a part of this if that's not what they want to do," he said.
President Obama, whose group Organizing for America, has bused in some of the nearly 70,000 protesters Saturday, last week called the bill "an assault on unions."
Walker said the president should stay focused on fixing the federal budget, which is $1.5 trillion in deficit this year. The president's plan, rolled out last week, proposes $1.65 trillion in deficits next year.
Under the governor's proposal, unions still could represent workers, but they could not force employees to pay dues and would have to hold annual votes to stay organized. Only wages below the Consumer Price Index would be subject to collective bargaining, anything higher would have to be approved by referendum.
The Associated Press contributed to this report.