Will the Golf Summit Be Smoke Free?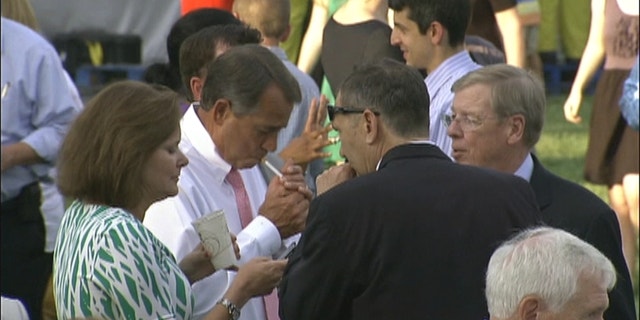 Concerns were raised at the White House Thursday that President Obama could succumb to peer pressure from John Boehner during their weekend golf outing - not by agreeing to deficit reductions Republicans want, but by bumming a cigarette off the House speaker.
Press Secretary Jay Carney couldn't answer a reporter's question about whether Obama might share a butt with Boehner on the back nine, but said the two would use the time to open up communications.
"These kind of meetings, this kind of communication are I think very helpful," Carney told reporters of the upcoming golf game, "they don't necessarily produce tangible progress on legislation - but they do produce the potential for a better atmosphere in the room when important things are discussed and negotiated."
President Obama has quit smoking after years of struggling with the nicotine addiction. First Lady Michelle Obama told reporters in February it has been almost a year since the commander in chief took a puff. The president's motivation for quitting was setting an example for his daughters and not having to admit the dirty habit.
Speaker Boehner on the other hand embraces his Camel Ultra Lights and actually lit a cigarette on the South Lawn of the White House Wednesday afternoon during the congressional picnic. While the speaker doesn't apologize for his smokes, he is rarely seen publically with a cigarette in hand. Asked about his addiction by Brian Williams earlier this year, Boehner told Williams, "it's a bad habit. I wish I didn't have it. But I have it."
While not revealing the course that the Speaker and President will tee off from Saturday with Vice President Biden and Ohio Governor John Kasich, Carney said in regards to smoking, I'm sure the President will be a fine host and I don't foresee a problem."