White House Wades Into Terror Intel Dispute Between FBI, Homeland Security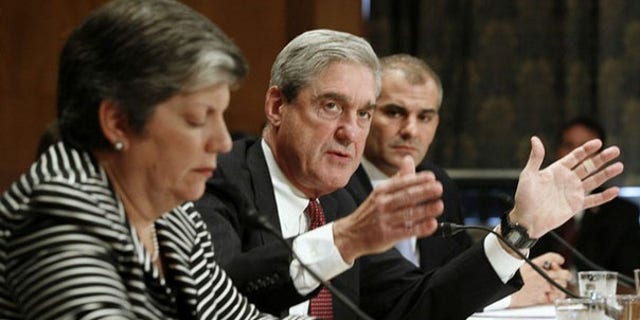 The White House has taken the unusual step of wading into a dispute between the nation's top law enforcement agencies over how much terrorist-threat information should be shared with state and local law enforcement, according to officials.
The White House involvement reflects the unusual nature of recent high-profile terrorism cases, including that of alleged bomb-maker Najibullah Zazi, which along with some undisclosed terrorist "activities" have raised tensions between the FBI and Department of Homeland Security, officials said.
Those tensions were aired during a weekend meeting at the White House with President Obama's counterterrorism chief, John Brennan, Attorney General Eric Holder, FBI Director Robert Mueller, DHS Secretary Janet Napolitano and others, according to officials.
DHS officials say information about on-going investigations should be shared broadly so local authorities can identify threats in their communities, but FBI officials say some of that information could compromise their investigations and ultimately sabotage anti-terrorism efforts.
On Tuesday, Napolitano and Holder announced "major steps" to improve the sharing of threat information, but such new efforts may be undermined by the recent tensions, one U.S. official said.
"There's been a lot of progress achieved," the official said of information sharing. "But at the end of the day, the success of those efforts is going to ride to some degree on getting this disconnect resolved."
Two officials said the "disconnect" reached a "boiling point" during the case of Zazi, a Colorado airport shuttle driver whose alleged bombing plot Holder recently described as "one of the most serious terror threats to our country" since the Sept. 11 attacks.
A White House official denied any "boiling point," but acknowledged there was "an honest difference of view regarding what information needed to be shared broadly and publicly."
"This difference reflects what we consider to be a healthy tension between those who are racing against time to find the potential perpetrators -- the (FBI) investigators -- and those who want to button down potential targets -- homeland security," the White House official said. "The departments and agencies all worked with the White House to make the call."
A joint statement from the FBI, DHS and Justice Department said information sharing "at every level is key to preventing terrorism and crime, and it was precisely through such intelligence sharing that we were able to disrupt the alleged plot by Najibullah Zazi."
One U.S. official, though, insisted there's more to the story, suggesting the White House has prevented useful information from being disseminated to state and local law enforcement.
"The White House has allowed the FBI to revert back to the mindset of the past," the official said. "The FBI had been a tremendous partner (for DHS) up until right before the change of administrations."
These issues became the topic of an intense discussion at the White House about two weeks after the Zazi case made headlines.
In mid-September, the FBI arrested the Afghan-born Zazi after he allegedly tried to build bombs with "large quantities" of hydrogen peroxide purchased at beauty shops in the Denver area.
Days earlier, media reports had disclosed that Zazi, 24, and others were allegedly planning to hide the bombs in backpacks and detonate them in New York City.
On a Friday night, National Counterterrorism Center Director Michael Leiter joined Brennan, Mueller, Napolitano and Holder for a two-hour meeting, which turned into an "excited" back-and-forth over information sharing, officials familiar with the meeting said.
Mueller was "angry" and "upset" over leaks to the media, while Napolitano expressed dismay that DHS was not more involved in the Zazi case, and she relayed concerns that only limited information was being offered to local authorities through joint FBI-DHS intelligence bulletins, according to the officials.
"It was very clear that the FBI's position was: The investigation is what's important, and you can't do anything to compromise the investigation ... because it is only through these investigations that we can stop attacks," one official said.
Napolitano insisted "there are things that we can take out of threat streams, and even investigative information, that can be provided in such a way that it both protects an investigation and provides context to (local authorities)," according to the official.
Throughout the meeting, Leiter tended to side with Napolitano, and Holder often aligned with Mueller, the official said.
As for Brennan, representing the White House's National Security Council, "He was in listening mode," according to the official.
Since then, at least two lower-level meetings have been held at the White House to further discuss information sharing, according to two officials. They said the underlying issues addressed at those meetings are "on-going."
Both former DHS secretaries said they couldn't recall a time during their tenures when the White House was included in discussions over information sharing.
Michael Chertoff, now a private lawyer in Washington, said disputes with the FBI about information sharing were rare, and "by and large, if there was an issue, I resolved it with (FBI Director) Mueller."
The first DHS secretary, Tom Ridge, described a similar experience in the years after DHS was first established in 2003.
"Occasionally we duked it out," said Ridge, now the head of his own security consulting firm in Washington. But, he said, "That's something that Mueller and I worked out."
Asked whether White House involvement in these discussions between the FBI and DHS could pose any conflicts, Ridge firmly said no.
"It's probably as good a place as any" to hash out such disagreements, Ridge said, adding that he has confidence in Brennan's ability to be a "bridge builder."
A senior law enforcement official stressed that the issue of information sharing "wasn't elevated to the White House because of contention."
"(The Zazi case) was already being briefed at those levels," the senior law enforcement official said. "This was the first counterterrorism case of this magnitude for this administration, so there was a desire on all sides to sit down and figure out how you deal with these kinds of issues."
An administration official agreed, calling any disputes "minor" and "certainly nothing that needed to be resolved by the White House."
Among the disputes addressed at the White House was a squabble over the joint FBI-DHS intelligence bulletins that are distributed to more than 18,000 local law enforcement agencies, according to officials.
After the Zazi case made its way into headlines and TV news reports, DHS and FBI sent out at least six bulletins, telling local law enforcement to be vigilant for, among other things, large purchases of hydrogen peroxide and backpacks.
Those bulletins sparked "big screaming" from local authorities -- some hundreds of miles away from New York City or Denver -- lamenting that they hadn't received sufficient information earlier, one FBI official said. In fact, the chief of police in Albuquerque, N.M., wrote a letter of complaint to federal authorities, the official said.
DHS, which is responsible for integrating federal safety and security efforts with local ones, agreed to some degree.
"The only way you can hope to pass this net across the country that is going to have the highest degree of potential to interdict or mitigate an evolving threat is to bring everybody that's on the front lines to a basic level of understanding of what they should be looking for," one DHS official said.
According to the DHS official, the FBI has been "resistant" to disseminate even a "contextual statement" such as, "We seem to be concerned about the potential of attacks against mass transit systems in (which) the attackers will utilize explosives concealed in backpacks (and) produced using the following types of chemicals."
"They feel it would be too close to the specifics of an investigation," the official said.
An FBI official said there was no resistance to sending out information "that helps keep people safe," and police chiefs in Denver, New York and New Jersey were regularly briefed about the case.
"(DHS) is catering to locals and states," the FBI official said. "DHS feels obligated to send something out, and our guys are saying 'Why do we need to send it to Albuquerque?' If (Albuquerque) didn't watch it on the news they wouldn't care."
A larger "problem," the FBI official said, is that "within 10 minutes of those things going out, they're in the media."
"Dissemination guarantees release to the public," the FBI official said.
In addition, according to officials on both sides of the debate, many in the FBI see little value in the joint bulletins as currently produced. One FBI official called them a "milk-toast" product and a "piece of paper that looks pretty."
It's unclear what impact -- if any -- a dispute over bulletins and information-sharing could have on homeland security efforts.
Asked whether local authorities are getting all the information they need to protect their citizens, one FBI official answered, "Yes," then paused for five seconds and concluded, "I don't know, I don't know, I don't know."
A DHS official similarly said, "I don't know."
Ridge, meanwhile, gave a more direct assessment.
"I don't care whether you're on the battlefield in Iraq or Afghanistan, or in the battlefield of some city in the United States, having knowledge and information about a potential problem is absolutely critical ... to making Americans more secure," he said.
In a statement released Tuesday with the "major steps" for improved information sharing, Napolitano said there is a "need for a more open, standardized approach."
A task force led by Napolitano and Holder recommended disseminating "sensitive but unclassified" information through a "single" framework, which Napolitano said would improve "engagement with our partners in state and local law enforcement as we work together to combat terrorism."
In addition, Napolitano and Holder announced the creation of new inter-agency offices to coordinate information sharing with state and local authorities.
Holder said the new efforts "represent a significant milestone toward fully implementing information sharing reforms called for following the terrorist attacks of Sept. 11, 2001."
In May, President Obama directed Holder and Napolitano to lead a 90-day review of how unclassified information is categorized and shared, so that "the handling and dissemination of information is not restricted unless there is a compelling need."