Virginia Rep. Tom Garrett accused of making staffers his 'personal servants'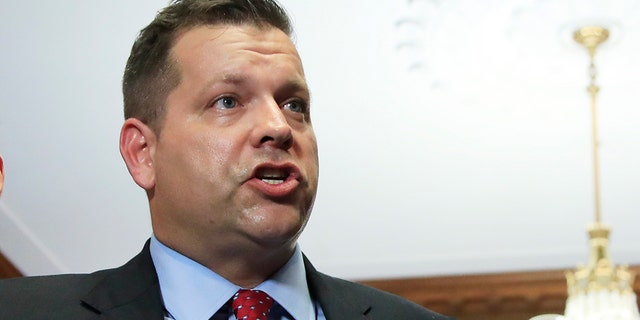 Virginia Republican Rep. Tom Garrett turned his congressional staffers into his own "personal servants," according to a new report, including making them pick up groceries, chauffeur his children and clean up after his dog.
One staffer told Politico that having to do Garrett's personal errands was "effed up." The website granted anonymity to four former aides to paint a portrait of a "deeply dysfunctional office" where aides were asked to do duties outside their typical congressional jobs during work hours.
"I can take hard work," one former aide said. "What I can't put up with is these just mundane tasks that [were] being asked to be completed by him and his wife that had nothing to do with the job."
A spokesman for Garrett declined to comment when Fox News asked about the claims. In a statement to Politico, spokesman Matt Missen called the allegations "unfounded."
Among the tasks the aides claim Garrett, and his wife Flanna, asked them to do, according to the story: watch and clean up after their Jack Russell-Pomeranian mix, drive Flanna to the grocery store, and drive their children from their home in Scottsville, in his home district, to Washington - a three- hour trip.
Politico said if true, this could raise ethics issues for Garrett, as the House prohibits lawmakers from using staff for unofficial duties.
It comes amid uncertainty over Garrett's future political plans. This week, though, he said he planned to run again for Congress.
"There is no way in heck that I'm not going to be back here in 2019 as a member of the Congress representing the 5th District of Virginia," he said. "Too darn much is at stake."