Veterans Day: Thousands Of Military Personnel Become Citizens In Special Ceremonies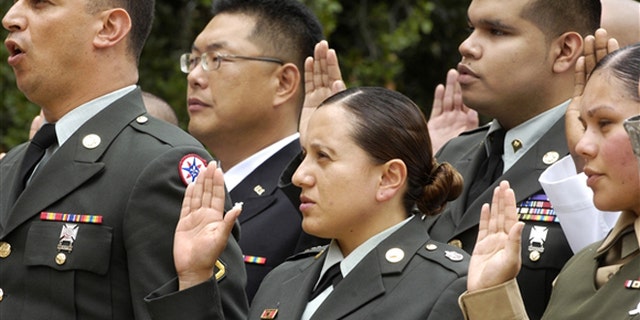 Thousands of U.S. military members and veterans are becoming naturalized citizens in ceremonies around the country and overseas.
Some 120 ceremonies, which focus on the Veterans Day theme, started taking place Nov. 7 and will continue through Nov. 13, said the U.S. Citizenship and Immigration Services (USCIS). About 8,000 immigrants are expected to become citizens.
"Throughout our history, thousands of immigrants have made extraordinary sacrifices for this country through military service," USCIS Director Alejandro Mayorkas said. "These men and women pledged to defend our nation to protect liberties they had yet to secure for themselves. We salute all our veterans for helping to preserve this nation as a beacon of hope and opportunity."
Since September 2002, USCIS has naturalized more than 92,000 members of the military, including nearly 11,000 who received their citizenship overseas, according to the agency.
One ceremony, on Nov. 13, will be held at the Women in Military Service for America Memorial at Arlington National Cemetery in Virginia. At the event, USCIS Deputy Director Lori Scialabba is scheduled to recognize Dr. Rahul Jindal, a transplant surgeon at Walter Reed National Military Medical Center in Bethesda, Md., as an Outstanding American by Choice.
The top two countries of origin for foreign-born military personnel are the Philippines and Mexico, according to the Migration Policy Institute.
The Philippines, with nearly 23 percent, accounted for the largest percentage of the foreign born in the armed forces, followed by Mexico with nearly 20 percent.
Of all military branches, the Navy has the highest number of immigrants, MPI said.
Follow us on twitter.com/foxnewslatino
Like us at facebook.com/foxnewslatino