US military ordering troops in Iraq to dust off chemical weapon suits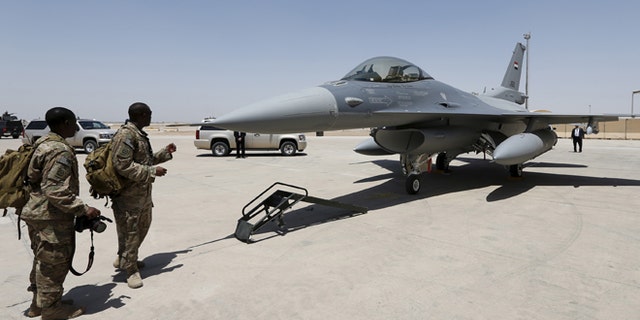 NEWYou can now listen to Fox News articles!
The U.S. military has ordered its nearly 3,500 troops stationed in Iraq to reacquaint themselves with their chemical weapons suits due to evidence that the Islamic State has obtained chemical weapons and used them on multiple occasions.
"It is a precautionary measure," a defense official told Fox News, acknowledging the order.
During a briefing Thursday, the Pentagon would not publicly confirm the order but reassured reporters that the military is prepared to handle a chemical attack by ISIS.
"The commanders in the field are making sure their troops are adequately prepared for the threats they may face," Pentagon Press Secretary Peter Cook said when asked about the new preparations.
Defense officials recently confirmed that a "mustard agent" was used by ISIS against Kurdish Peshmerga forces in a mortar attack on Aug. 11 in the northern Iraqi city of Makhmur, located southwest of Erbil.
"[We] were able to take the fragments from some of those mortar rounds and do a field test, a presumptive field test on those fragments and they showed the presence of HD, or what is known as sulfur mustard. That is a class one chemical agent," said Brig. Gen. Kevin J. Killea, chief of staff, Combined Joint Task Force-Operation Inherent Resolve, in a Pentagon video-teleconference with reporters from his base in southwest Asia late last month.
In the past few days, more evidence has surfaced of chemical weapons attacks by ISIS in Syria and Iraq.
On Monday, a rocket suspected of carrying chemical weapons was fired by ISIS at Kurdish Peshmerga forces guarding the Mosul Dam, the Kurdish media news agency Rudaw reported.
The attack produced "yellow smoke," according to the report. There were no significant injuries reported.
On Wednesday, Rudaw also reported that ISIS allegedly used chemical weapons again, this time in Syria against Kurdish fighters of the Peoples' Protection Units (YPG) in Hasaka province.