Unions Rally by Thousands Against Maryland Governor's Plan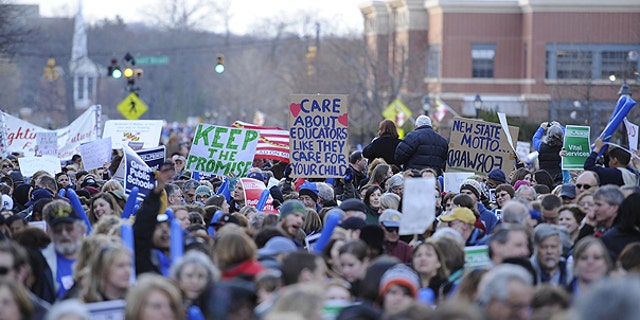 ANNAPOLIS, Md. -- Thousands of union members rallied before the State House on Monday night, vowing to protect their employee pensions and public school funding.
Protesters filled Lawyer's Mall, immediately in front of the State House, where they stood among the shrubs planted in front of the governor's mansion and packed Bladen Street.
Taking part were members of the state's largest unions, including the American Federation of State, County and Municipal Employees and the Maryland State Education Association, which represents teachers. They rang bells, banged plastic thunder sticks and chanted "Keep the promise."
Gov. Martin O'Malley has proposed changes to address a troubling $19 billion in unfunded pension liabilities and $16 billion in retiree health liabilities. It would require increased contributions from state employees.
"This is the guy that likes you, and look what he's doing to you," said Thomas Corkran, a retired corrections maintenance officer, who spent 21 years teaching Maryland inmates to do repairs on state buildings.
O'Malley, a Democrat, also cut $94 million from the state's public schools in the budget plan he submitted to the General Assembly in January.
Those moves brought a mix of long-time state workers and teachers to pour in.
But when cast against Wisconsin -- where Republican lawmakers stripped collective bargaining rights for state workers -- and states considering similar measures, AFL-CIO President Richard Trumka lauded O'Malley.
"Unlike the other places, like Wisconsin and Ohio, that are trying to destroy the workers' right to sit down and collectively bargain this governor understands us," Trumka said in an interview before the rally.
When asked why he was joining in the protest against O'Malley and the Legislature, which is overwhelmingly controlled by Democrats, Trumka said it was "part of the process."
O'Malley spoke briefly in a surprise appearance at the end of the rally.
"We've got tough decisions ahead of us," he said. "None of us has all the answers, but you know what? We are committed to stay at the table and to figuring this out, and moving together as one Maryland."
The thousands of people who filled the streets was a departure for Annapolis, where protests have been frequent during this year's 90-day session of the General Assembly, but much smaller.
"I've never seen anything like this," said Department of General Services Secretary Alvin Collins, as he watched union members march from the Navy-Marine Corps Memorial Stadium almost a mile away.
Patrick Moran, director of the Maryland chapter of the American Federation of State, County and Municipal Employees, said he expected more than 5,000 and as many as 10,000.
Officials did not expect to have a crowd estimate ready until Tuesday morning, said Sam Cook, director of the Annapolis Capital Region for DGS.
A trio of Southern Maryland teachers said they came because they want lawmakers to understand the pain they would feel if their pensions were slashed.
"We've worked hard and now we're told the money's not there," said Angela Baker, a 28-year veteran math teacher at La Plata High School.
"Hey Annapolis! Give us YOUR pension! Pension Equity!" read the sign Baker held above her head.
Kathy Miles, a math teacher at La Plata High who has taught for more than 30 years, and Barbara Pennington, a 37-year veteran physical educator at John Hanson Middle School, joined Baker.
"We wouldn't mind them (lawmakers) taking the same medicine they give to us," Miles said.
A small gaggle of counter-protesters held signs reading "Are you a Tax Payer or a Tax Eater" and chanted.
The "Code Stink" protesters -- a play on the name of the anti-war group Code Pink -- wore pink shirts and carried balloon pigs in allusion to excessive government spending.
Diane Eves, a fiscal technician for 16 years at the Maryland Department of Human Resources, said union members are shortsighted and do not care about the state's long-term stability.
"I'm tired of unions grabbing all they can out of greed," said Eves, who does not belong to a union.