U.S. to Russia After Spy Charges: No Hard Feelings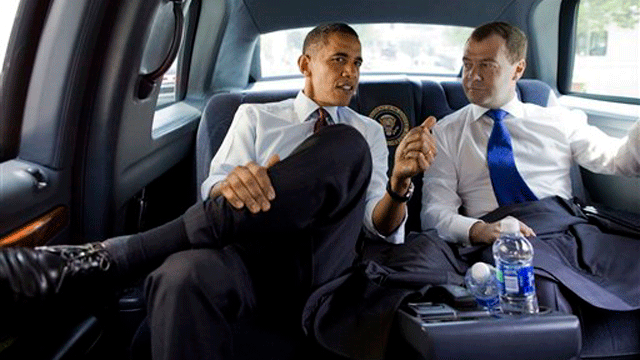 After this week's shocking news that Russia is still playing spy games in the United States, U.S. officials are saying -- at least in public -- that there are no hard feelings between the two former Cold War adversaries.
The U.S. State Department says it has no plans to expel Russian diplomats in connection with the arrests of 11 alleged Russian secret agents on Monday.
State Department spokesman P.J. Crowley said U.S. officials have been in contact with their Russian counterparts to discuss the U.S. arrests and said he foresaw no further diplomatic fallout.
Crowley said the "highest levels" of the State Department were aware of the U.S. counterintelligence investigation and the plan to make the initial arrests. Crowley mentioned no names, but the department's third-ranking official, William Burns, is a former U.S. ambassador to Moscow.
"State Department officials were aware of investigation and the timing of the law enforcement actions," Crowley said. "We have been supporting it and we will continue to do so."
Bill Burton, a White House spokesman, said Wednesday that President Obama has not reached out to Russian President Dmitry Medvedev about the arrest.
"There's been contact at other levels of the government, but I don't know of any contact between the president and Medvedev," Burton said.
When asked if there are plans for contact, Burton said, "Not that I know of."
On Monday, 10 suspects accused of being ring members were arrested across the Northeast and charged with failing to register as foreign agents, a crime that is less serious than espionage and carries up to five years in prison.
Some also face money laundering charges. An 11th suspect was arrested in Cyprus, accused of passing money to the other 10 over several years. He vanished after being released on bail, authorities said.
Prosecutors said several of the suspects were Russians living in the United States under assumed names and posing as Canadian or American citizens.
Some of the ring's members lived as married couples and used invisible ink, coded radio transmissions and encrypted data, the court papers allege. Some even used the Hollywood-style method of swapping bags in passing at a train station, the papers said.
Russian officials initially denounced the arrests as "Cold War-era spy stories" and accused elements of the U.S. government of trying to undermine the improving relationship between Moscow and Washington. But the White House and Russian Prime Minister Vladimir Putin expressed confidence that the arrests would not damage ties between the two nations.
Among the suspects arrested is the redheaded bombshell Anna Chapman, who has captured the country's imagination -- if not more valuable information.
Biographical information on Chapman on the Lifenews.ru website said she was the daughter of a Russian diplomat who at one time worked in Kenya. It said she moved to Britain after marrying a Briton whose father was Europe director for Auchan, the French supermarket chain, which operates many stores in Russia. The People's Friendship University in Russia confirmed she graduated in 2004.
The Associated Press contributed to this report.