U.N. Rights Council Backs 'Censorship' Watchdog, Elevates U.S. Foes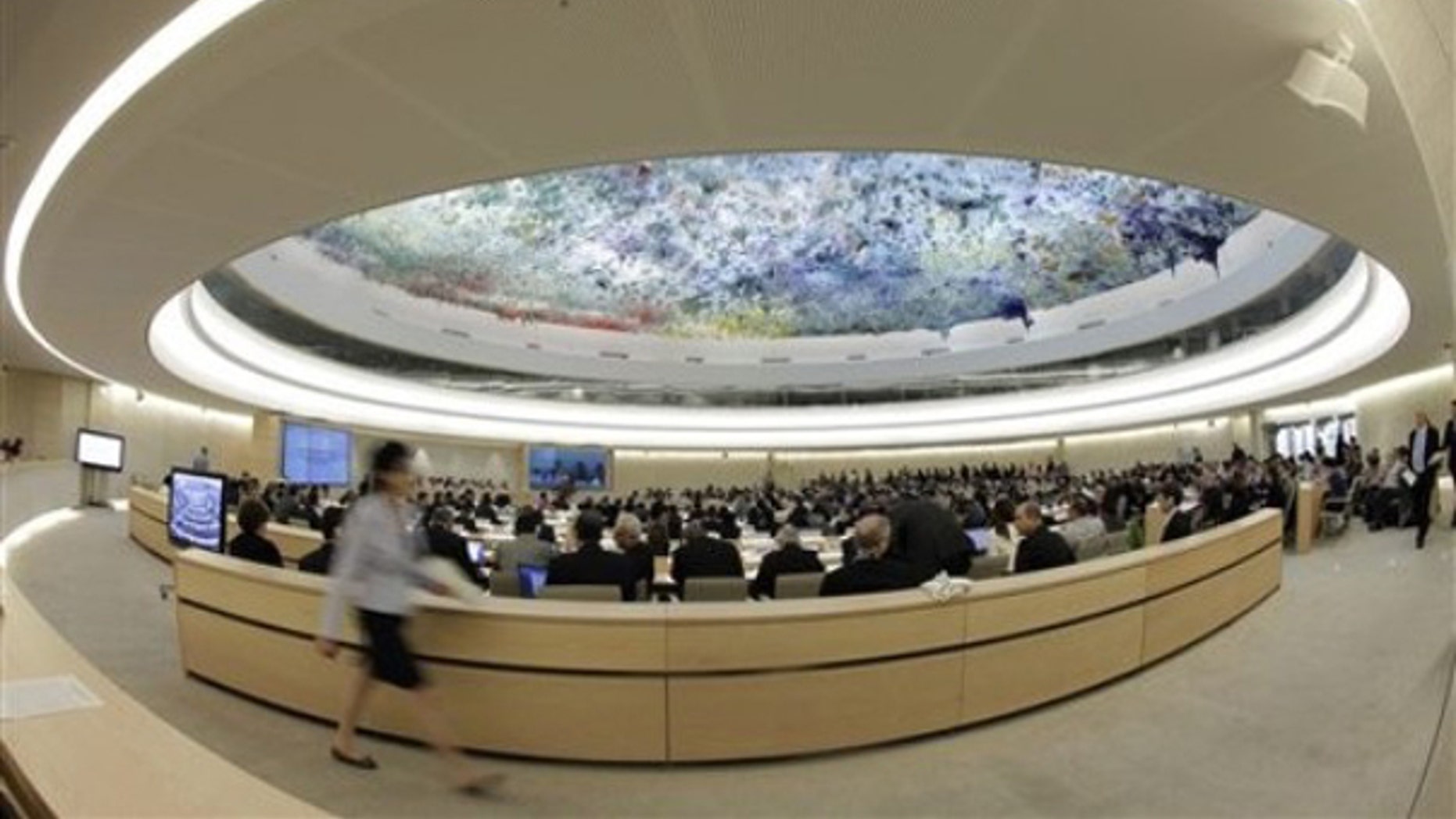 The United States and its allies suffered a series of setbacks at the United Nations on Friday as the Human Rights Council flirted with media censorship and was poised to elevate an anti-American politician and a Cuban to key positions.
Concerns about censorship were raised after the 56-nation Organization of the Islamic Conference (OIC), which has tremendous sway in the United Nations, successfully pushed through a resolution that creates a watchdog to monitor how religion is portrayed in the media.
The OIC says it will promote religious tolerance by ensuring that religion is not defamed, as it claims occurred when Danish cartoons depicting the Prophet Muhammad provoked Muslim riots. But the United States and the European Union members on the council opposed the resolution, fearing that it will censor the press and muzzle freedom of expression.
The resolution now opens the way for the Human Rights Council to select a special investigator on religious freedom to "work closely with mass media organizations to ensure that they create and promote an atmosphere of respect and tolerance for religious and cultural diversity."
Hillel Neuer, executive director of the Geneva-based non-profit U.N. Watch, warned that what the OIC is really trying to do is "turn an international shield for religious freedom into a sword for religious-motivated state censorship."
Another blow to U.S. interests Friday in Geneva was the appointment of former U.N. General Assembly president and ex-Sandinista Miguel D'Escoto Brockmann as a member of the council's 18-member Advisory Committee.
D'Escoto is a virulently anti-American politician, who champions the causes of Iranian President Mahmoud Ahmadinejad, Venezuelan strongman Hugo Chavez and Chavez ally Evo Morales, president of Bolivia. During his tenure as General Assembly president, D'Escoto's senior advisers included Libyan leader Muammar Qaddafi supporter Ramsey Clark and Hamas-friendly U.N. human rights investigator Richard Falk. D'Escoto last year called Fidel Castro a world hero.
On top of that, a Cuban is expected to be selected Monday to be vice chair of the Human Rights Council.
Rep. Ileana Ros-Lehtinen, R-Fla., ranking Republican on the House Foreign Affairs Committee, decried the developments in Geneva in a statement on Friday.
"'Shameful' is the only word that can describe any organization that would promote Cuba as a defender of human rights, while naming an anti-American, anti-Israel former Sandinista mouthpiece as an advisor," she said.
The developments raised new questions about the Obama administration's decision last year to join the Human Rights Council -- ending President George W. Bush's policy of boycotting it because its members include China, Cuba, Saudi Arabia, Nigeria and other countries with abysmal rights records.
At the time, U.S. Ambassador Susan Rice acknowledged that the council is flawed, but said: "We are looking forward to working from within with a broad cross-section of member states to strengthen and reform the Human Rights Council."
Fox News has asked for Rice's reaction to the latest developments in Geneva and is awaiting a response.
Supporters of U.S. participation in the council point to successful lobbying against Iran's recent bid for a seat as proof that it makes sense to be engaged. They say participation gives the U.S. and other defenders of human rights a better chance to make the institution more effective.
But Ros-Lehtinen is pushing to withhold funding to the U.N. proportionate to what is allocated for council activities.
"The U.S. was wrong to join and legitimize this rogues' gallery in the first place. The Cuban tyranny's elevation to vice chair of the council should be the final straw that prompts all responsible nations to finally end their participation and support," she said.
Neuer also objected to D'Escoto's appointment on Friday.
"That the U.N. Human Rights Council chose to honor and be advised by an apologist for genocide perpetrators and promoters only underscores the inverted morality of this Orwellian body. Just when we thought the council had already reached rock bottom, today it found a way to sink even deeper," he said.
The Human Rights Council website says the Advisory Committee serves as the council's "think tank," providing it with expertise and advice on thematic human rights issues.
The latest setbacks for the U.S. and its allies follow the April election of Iran to the U.N. Commission on the Status of Women. Tehran will hold this influential human rights seat at the U.N. for four years, while women's rights advocacy groups say the Iranian regime does not believe in gender equality.