Trump's meeting with North Korea's Kim will be historic...and logistically complicated
Historic. Unprecedented. Shocking.
All these terms have been tossed around since the announcement Thursday evening that President Trump and North Korean dictator Kim Jong Un plan to meet in May for nuclear disarmament talks.
But there's another phrase that is also applicable to this monumental meeting: a logistical nightmare.
"There are so many outliers and so many moving parts to this meeting that it could be a major logistical problem for all sides involved," Yun Sun, the co-director of the East Asia Program at Washington D.C.'s Stimson Center, told Fox News.
The first logistical issue that needs to be addressed ahead of the planned talks in May is where in the world Trump and Kim will actually meet.
The United States would prefer Kim make the trip to Washington D.C., but that seems highly unlikely given the North Korean strongman has never left North Korea since taking power. Even though Pyongyang has been seeking a personal meeting with a sitting U.S. president for at least two decades, experts say it would be surprising if Kim left the hermit kingdom, given his lack of diplomatic experience and presumed comfort level on his home turf.
No U.S. leader has ever visited North Korea while serving in the Oval Office. Jimmy Carter and Bill Clinton traveled to the country on what amounted to peacekeeping missions, but both Democrats had been out of the White House for years before making their trip.
While experts are skeptical that Trump would appease the Kim regime and travel to Pyongyang – especially given the signal it would send to other Asian nations - they added that it is not out of the question given the strong-willed, in-your-face type of leadership Trump projects.
"Trump doesn't care how he is perceived domestically among politicians, so he might be the only president to actually do this," Yun said.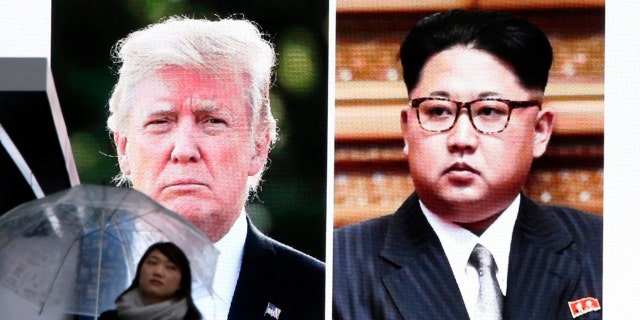 The neutral-country option seems the most likely answer to where the two world leaders will meet and, despite nations as disparate as Norway, Switzerland, China and Russia being thrown around as possible hosts, the most likely option appears to be South Korea or the truce village of Panmunjom in the Demilitarized Zone between the rival Koreas.
Experts note that both Washington and North Korea would feel comfortable implementing their security measures there and that South Korean leader Moon Jae-in already has played a crucial role in bringing the two leaders to the negotiating table. Holding talks on the Korean peninsula would also be seen as a sign that all parties involved are in it for a real solution.
"Trump needs to take the same tone Ronald Reagan took when he met with Mikhail Gorbachev."
"The location is not so important in settling the short term differences between the countries, but it is for the long term" Robert Pape, a professor of Political Science at the University of Chicago, told Fox News. "Depending on where it is, it will send a message that this is not just a one-and-done meeting between the U.S. and North Korea."
Once the location is decided upon, the Secret Service and the security details for the other countries involved must start planning their safety measures. This may seem like a monumental task, but former Secret Service agents say that the U.S. has worked with North Korea in the past on security measures and that the agency will follow the same plan it does for whenever the president travels abroad or a foreign dignitary comes to the U.S.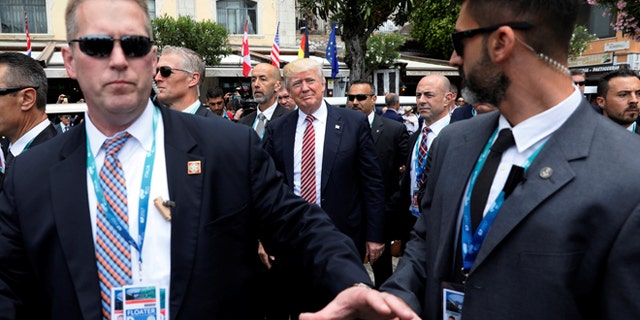 "This meeting definitely creates some issues, but there are always counter measures," Dan Bongino, a former Secret Service agent and current political analyst, told Fox News. "There are questions that need to be answered, like who will be armed, who will be allowed where, who gets this, who gets that. But the Secret Service is going to implement its plan no matter where it is."
As for coordinating a presidential trip of this historic magnitude in less than two months, Bongino noted that it may involve a great deal of intelligence gathering and heavy screening, but it is not unusual for the Secret Service to work within these parameters.
"I've personally coordinated an entire Secret Service operation to Afghanistan in nine days," he said. "It's not particularly complicated as long as you follow procedures, and May is a particularly long time window to plan for."
While the Secret Service handles security, Trump must focus on getting his message just right.
"Trump needs to take the same tone Ronald Reagan took when he met with Mikhail Gorbachev," Pape said in reference to the former president's role in ending the Cold War through his talks with the Soviet leader. "The two can't easily recreate that, but that should be the goal."
A big question will be whether Trump can accept a freeze of North Korea's nuclear weapons program rather than its elimination, Koh Yu-hwan, a North Korea expert at Seoul's Dongguk University, told The Associated Press.
Kim will likely want to keep some nukes as a deterrent, but that might be hard for Trump to accept when he spent so much time harshly criticizing his predecessor, President Barack Obama, for standing by and watching as North Korea became a nuclear threat. Kim could, however, express a firmer commitment to denuclearization to Trump, including giving a full report on the North's current nuclear weapons arsenal and allowing thorough international verification once the denuclearization process takes hold.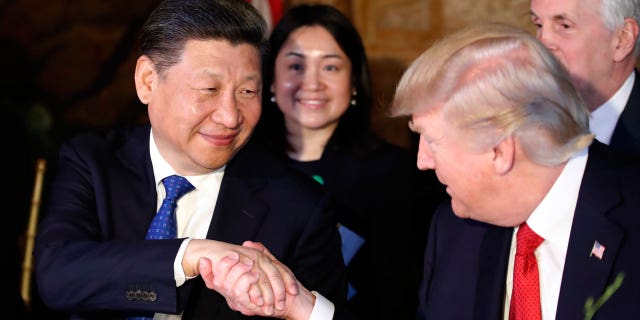 The relationship between the two world leaders has been rocky to say the least. Trump and Kim have repeatedly engaged in a war of words via social media – the president nicknamed the North Korean strongman "Little Rocket man" and called him "short and fat." Kim has called Trump a "dotard," and threatened repeatedly to attack the U.S.
The two also have argued over the size of nuclear buttons – and some observers worry that Trump's unpredictability will sour the talks before they even start.
Others, however, say that Trump has been quite successful in his dealings with other world leaders. Pointing to China, Yun noted that his diplomacy with Chinese President Xi Jinping has helped force Beijing to get tougher with North Korea.
"While his mixed messages toward North Korea are a big no-no, he has been somewhat successful at his diplomacy with other countries in Asia" Yun said. "He can play nice and be very amicable with Kim, but when it comes to the negotiating table he will push very hard."