Trump tweetstorm rips his critics over indictments, fails to castigate Russia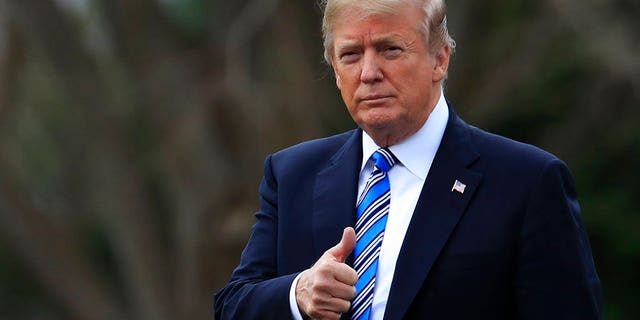 President Trump's use of Twitter as a sledgehammer delights his base and drives his detractors crazy, especially in the press.
But even by Trumpian standards, his tweetstorm over the weekend was something to behold, coming as it did against the backdrop of Bob Mueller's indictment of 13 Russians for election meddling.
The New York Times said yesterday that Trump initially felt vindicated by Mueller's lack of any collusion charges against his campaign—though "unwitting" Americans were said to have cooperated with the Russians—but things changed as he watched cable news at Mar-a-Lago:
"The president's mood began to darken as it became clearer to him that some commentators were portraying the indictment as nothing for him to celebrate, according to three people with knowledge of his reaction. Those commentators called it proof that he had not won the election on his own, a particularly galling, if not completely accurate, charge for a president long concerned about his legitimacy."
There was a swipe at his national security adviser: "General McMaster forgot to say that the results of the 2016 election were not impacted or changed by the Russians."
There was the fact that the Russian hacking predated his political career: "Funny how the Fake News Media doesn't want to say that the Russian group was formed in 2014, long before my run for President. Maybe they knew I was going to run even though I didn't know!"
There was the dismissal of his own repeated insistence that the Russia probe was a hoax, that he never fully accepted Moscow's role in election interference and appeared to accept Vladimir Putin's denial when they met:
"I never said Russia did not meddle in the election, I said 'it may be Russia, or China or another country or group, or it may be a 400 pound genius sitting in bed and playing with his computer.' The Russian 'hoax' was that the Trump campaign colluded with Russia - it never did!"
And the president somehow suggests that the media, congressional and law enforcement pursuit of the Russian disruption was more important than the election hacking itself:
"If it was the GOAL of Russia to create discord, disruption and chaos within the U.S. then, with all of the Committee Hearings, Investigations and Party hatred, they have succeeded beyond their wildest dreams. They are laughing their asses off in Moscow."
Look, we know that the president is sensitive about the suggestion that the Russians were partially responsible for his election, and there's no evidence their shenanigans—including identity theft, impersonating Americans and manipulating Facebook—were able to change the outcome. So he dissects the indictments through that narrow lens.
There are two journalistic narratives right now, and they're not mutually exclusive. Some in the media did cast the Mueller charges as a victory for Trump, at least for now. Others looked more narrowly at his past criticism of the investigation as a witch hunt and said Mueller had knocked down his "hoax" narrative. A Politico headline, for instance, declared: "Worries About Trump Legitimacy Resurface With Russia Indictment."
I don't see how indicting 13 Russians with no conscious help from those in Trump's orbit casts doubt on the legitimacy of a candidate who fairly won the Electoral College.
The one tweet that really bothered me was this:
"Very sad that the FBI missed all of the many signals sent out by the Florida school shooter. This is not acceptable. They are spending too much time trying to prove Russian collusion with the Trump campaign - there is no collusion. Get back to the basics and make us all proud!"
I just don't think he should have dragged the Florida tragedy into it. The FBI's bungling of a warning about the shooter was indeed a terrible and tragic mistake. But the bureau is a large institution, and obviously it didn't botch that warning because too many agents were investigating the Russia matter.
By Sunday night he was back to his usual form, tweeting against the "insecure" Oprah for what he called her "biased and slanted" questioning of Trump supporters in a "60 Minutes" segment. Trump said he hopes she runs, but unfortunately for him, she's defied the media drumbeat and said she's not.
One thing the president hasn't done is denounced Moscow for its systematic effort to undermine American democracy. To me, this is a missed opportunity. Trump could get bipartisan support for a speech in which he vowed to retaliate, regardless of whether the hacking helped him or not. But because he views almost everything through the prism of his election, Trump has chosen not to address a conspiracy that his own Justice Department says was damaging to America.