Trump to address Future Farmers of America convention ahead of midterms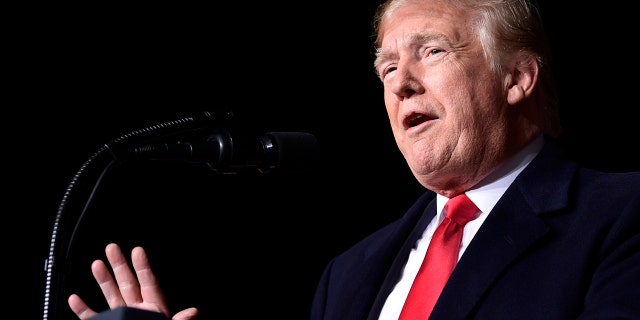 President Trump will deliver the keynote address Saturday at a convention for American farmers in Indianapolis, becoming the first president to accept the invitation in nearly three decades.
Trump is scheduled to attend the 91st annual Future Farmers of America Convention and Expo to speak about how his administration has helped spur agriculture, the Indianapolis Star reported.
Earlier this month, Trump announced his decision to permit year-round sales of E15 -- automotive fuel that's 15 percent ethanol -- a move seen as particularly helpful for the farm states.
In July, the president said his administration would grant up to $12 billion in emergency aid to farmers hurt by retaliatory tariffs in the ongoing trade fight with China and America's other trading partners.
Trump's address in Indianapolis will come less than two weeks ahead of midterm elections, where big agriculture states like Indiana, Missouri and North Dakota have competitive Senate races, according to the Star.
Trump is the first president to take up the convention's invitation since George H.W. Bush in 1991, according to the paper.
"Personally I think that's a great opportunity for people to actually know that our president is involved in our organization, and a lot more so than past presidents," Cassie Roehm, a 16-year-old member of the FFA, told the Star. "So that's a great opportunity to see him speak and know that we're actively working to improve this country."