Trump takes interest in American's Bali prison ordeal over medical marijuana
An American's prison ordeal on the resort island of Bali has caught the attention of President Trump.
The American, Christian Beasley, 32, was thrown into Bali's notorious Kerobokan Prison in August after being picked up with a small amount of marijuana. He escaped Dec. 11 and was on the run in the mostly Muslim nation for five days before being recaptured. Fox News aired a report on Beasley's plight on "Special Report" on Thursday, and it was seen at the White House.
Now senior administration officials tell Fox News that after seeing the piece, Trump inquired about getting involved. The officials say he asked for additional information regarding the charges and conditions of Beasley's captivity.
"I was encouraged the other day when the president and this new administration has been very good about helping Americans who are finding difficulties in foreign lands, and I would love the situation where they would just send him home," Beasley's father, Hank Giesecke, told Fox News.
Beasley's family members are most worried about his health and safety behind bars. Kerobokan is overcrowded, understaffed and brutally violent.
"This Kerobokan jail was designed for 300 inmates," Giesecke said. "It has 1,600, so you can imagine the conditions there."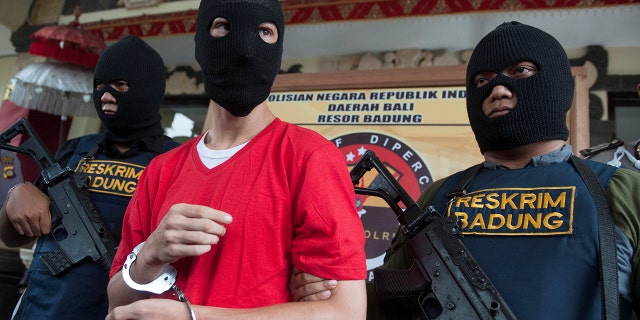 Giesecke said his son has been in and out of therapy most of his life.
"Sadly when he was four he was kidnapped and he was gone for a year and a half," he said. "It has always had an effect on him."
He alleged his son was kidnapped in 1989 from his backyard in San Diego through a shadowy group called the Children of the Underground. Christian was found a year and a half later in a cabin in Vermont.
The group, according to reports, claimed to shelter alleged victims of child abuse in the 1980s and '90s by hiding them in safe houses scattered throughout the U.S. The group's founder claimed to have hidden in excess of 1,000 children.
"Justice is not being done," Giesecke told Fox News. "What we need to do is bring him home because he needs some help and he is not going to get it in prison."
Beasley, of California, and compatriot Paul Anthony Hoffman escaped during heavy rain on Dec. 10 from the Kerobokan penitentiary in Bali's provincial capital by sawing through a ceiling and then climbing over a 20-foot-high wall.
Hoffman, 57, from New York, who has been serving a 20-month sentence for robbery since July, was captured right away. Beasley hired a motorbike driver to take him to Ubud, where he hid in a bush near a museum until midnight.
He then rode in a car to Padang Bay, a ferry port, where he hired a speedboat to take him to the resort island of Lombok. He was recaptured on Saturday in an alley near a Lombok beach.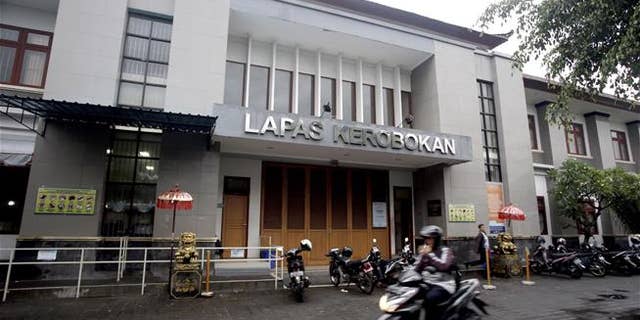 "I have a license to use ganja (marijuana) for medical reasons but they want to give me four years or more in jail," Beasley told reporters at the Badung Police station on Wednesday.
He said he escaped because other inmates were trying to extort money from him and he feared being beaten because he had none to give. "They threatened me to pay protection money, that was why I left," he said.
"I need help, I really need help. ... Please help me, please help me. In my country (it) is not a crime (to) use ganja," he shouted to journalists while being taken back into the jail by police.
Giesecke told Fox News he found it disturbing that police were parading his son around in a hood and shackles.
"I don't understand this business of parading people around in hoods," he said. Why would you put a hood on someone unless his face is all beat up? My concern is they are just going to take him out and shoot him."
Giesecke said his son has a medical marijuana prescription for fivegrams.
Police in Bali say he was caught at a post office with a packagae containing 5.7 grams. Giesecke said seven-tenths of a gram "is like a pinch of salt."
"Compassion says we bring him home and get him some treatment," he told Fox News.
Beasley escaped the day before he was to hear the verdict in his case.
Beasley's mother, Rosalind, 70, told Newsweek she was in Bali for the verdict and saw her son right after he escaped.
"He apparently ran from the prison to my room and knocked on the door in the middle of the night. It was raining," she told the magazine. "I opened the door and he said, 'You have to come with me.'"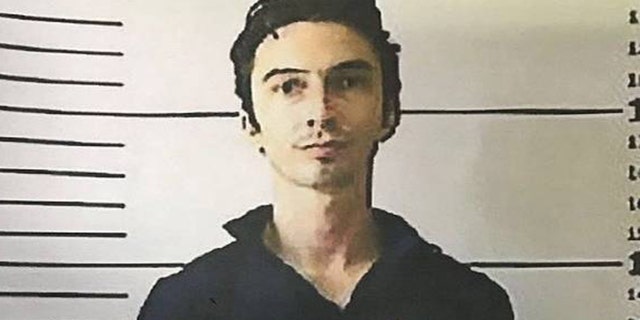 Rosalind said of her son, "[Christian] explained he was fearful, he'd heard from other prisoners that friends or close relatives could be threatened with physical harm as a mean to obtaining information about the location of the escapee."
She said she stood there frozen, not knowing what to do.
"He grabbed my little sack and put my computer in it and said, 'You want to take some clothes?' I just couldn't figure out what to do, what to take," she told the magazine.
"I stuffed my purse belongings in that little backpack and put on a rain cover. I don't think it could have been five minutes that we were there in the room," she added.
She left Bali and flew to Thailand to await word from her son. She then flew home to California.
The scooter Beasely used in the escaped held a Bible, Newsweek reported. "I did not know he had those things," Rosalind told the magazine. "I wasn't aware he escaped with anything, but he has a strong faith. Whether he brought the Bible or he obtained it after he escaped, I don't know."
Fox News' William La Jeunesse in Los Angeles and The Associated Press contributed to this report.