Trump says he stands with US intel agencies on Russian meddling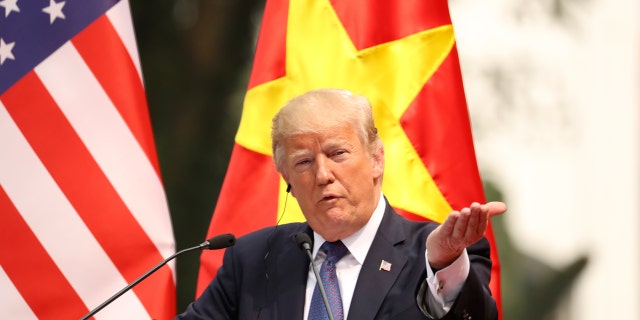 NEWYou can now listen to Fox News articles!
One day after criticizing past leaders of U.S. intelligence agencies as "political hacks," President Donald Trump clarified Sunday that he stands behind the agencies' current leadership.
At a news conference in Hanoi, Vietnam, as he continues his 13-day Asia trip, Trump also said that he thinks Russian President Vladimir Putin believes it when he says Moscow did not interfere in the 2016 U.S. presidential election.
But Trump made clear that he sides with U.S. intelligence agencies, which have concluded that Russia did meddle in the election.
"I believe that he feels that he and Russia did not meddle in the election," Trump said of Putin at the joint news conference with Vietnam's President Tran Dai Quang.
"As to whether I believe it, I'm with our agencies," the president added. "As currently led by fine people, I believe very much in our intelligence agencies."
"As to whether I believe it, I'm with our agencies. As currently led by fine people, I believe very much in our intelligence agencies."
The U.S. intelligence community has concluded that Russia interfered in the election to help Trump defeat Democrat Hillary Clinton.
Speaking to reporters aboard Air Force One on Saturday, Trump had said that Putin again vehemently denied the allegations -- this time during an economic summit in Vietnam. Trump said he believed "that when he tells me that, he means it."
Trump had also dismissed former U.S. intelligence officials as "political hacks" and accused Democrats of using the issue to try to sabotage relations between the two countries, putting lives at risk.
But Trump's Saturday comments drew sharp criticism in the United States, with U.S. Sen. John McCain, R-Ariz., and others asserting that the president seemed to side with Putin over U.S. intelligence professionals, Politico reported.
At the news conference, Trump reiterated his view that it's crucial for the U.S. to get along with Russia, and seemed to suggest that it was time to remove the sanctions Congress has slapped on Russia in retaliation for its election meddling efforts.
"It's now time to get back to healing a world that is shattered and broken," said Trump. "Those are very important things."
As he traveled to Hanoi, the second-to-last stop of his Asia trip, Trump told reporters that Putin "said he absolutely did not meddle in our election. He did not do what they are saying he did."
"Every time he sees me, he said: `I didn't do that.' And I believe -- I really believe -- that when he tells me that, he means it," Trump said, calling the accusation an "artificial barrier" erected by Democrats.
The president lashed out at the former heads of the nation's intelligence community, and said there were plenty of reasons to be suspicious of their findings.
"I mean, give me a break. They're political hacks," Trump said, citing by name James Clapper, the former director of national intelligence, John Brennan, the former CIA director and his ousted ex-FBI director James Comey, whom Trump said was "proven now to be a liar and he's proven to be a leaker."
In a tweet sent Sunday from Hanoi, Trump bashed the "haters and fools" he said are questioning his efforts to improve relations with Russia and accused critics of "playing politics" and hurting the country.
Trump's comments about Putin and "political hacks" brought criticism from lawmakers with ties to the intelligence community.
U.S. Rep. Adam Schiff, the California Democrat who is his party's top member on the House's intelligence committee, said in a statement that Trump "fools no one" and that the president understands how the Russians intervened through hacking, social media and their own television coverage of the presidential race.
McCain, the GOP's presidential nominee in 2008, said in a statement that Trump's faith in Putin's denial was "naive."
"There's nothing 'America First' about taking the word of a KGB colonel over that of the American intelligence community," McCain wrote, referring to Putin's former career in Soviet intelligence. "Vladimir Putin does not have America's interests at heart."
Trump was in Hanoi for a brief state visit, including Sunday's meeting with Quang at the presidential palace.
In brief remarks after his arrival, Trump offered help negotiating with China on disputes over the South China Sea. Beijing's island-building there has drawn criticism from Washington, which argues the U.S. has a national interest in freedom of navigation in sea lanes critical for world trade. U.S. Secretary of State Rex Tillerson earlier this month said China's "provocative actions" challenged international law and norms.
"If I can help mediate or arbitrate, please let me know," Trump offered. "I'm a very good mediator and a very good arbitrator. I've done plenty of it from both sides."
The Associated Press contributed to this story.