Trump questions Clinton's temperament, calls her 'out of control'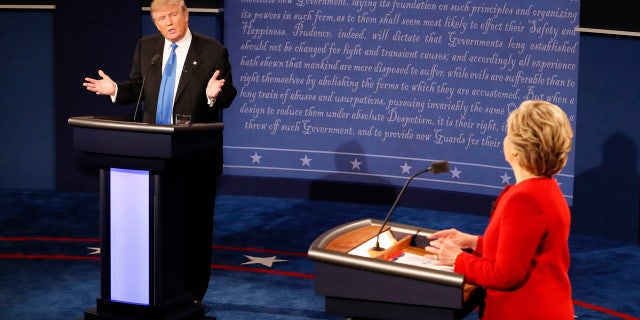 Donald Trump tried at Monday's debate to turn the tables on presidential rival Hillary Clinton, questioning her temperament and calling her "totally out of control" during a recent speech.
Trump, the Republican nominee, was referring to a video address Clinton, the Democratic nominee, gave last week to a union group in Las Vegas in which she touted her support for big labor, then loudly asked, "Why aren't I 50 points ahead? … I need you to get Donald Trump's record out to everybody."
Trump said near the close of the 90-minute debate, "I don't know who you were talking to, Secretary Clinton, but you were totally out of control. I said, 'There's a person that's got a temperament problem. That's out of control.' "
Clinton and others previously have called into question Trump's temperament, with Clinton repeatedly suggesting it makes him "unfit to serve as president."
On Monday, she said shooting Iranian vessels "out of the water" for approaching U.S. vessels in international waters in the Persian Gulf, as Trump recently suggested, would be tantamount to an act of war.
"I have better judgement," Trump said. "I also have a much better temperament than she does. I think my strongest asset, maybe, is my temperament. I have a winning temperament. I know how to win."