Trump comes out against Blankenship in West Virginia Senate race, says he 'can't win'
President Trump made an extraordinary appeal Monday for Republican primary voters to oppose former coal baron Don Blankenship in the looming West Virginia Senate primary, saying he "can't win" in the general election.
Trump, in an early-morning tweet, instead urged voters to pick one of his two rivals, Attorney General Patrick Morrisey or Rep. Evan Jenkins.
"To the great people of West Virginia we have, together, a really great chance to keep making a big difference. Problem is, Don Blankenship, currently running for Senate, can't win the General Election in your State...No way! Remember Alabama. Vote Rep. Jenkins or A.G. Morrisey!" Trump tweeted.
The president's tweet warned voters in West Virginia ahead of its Tuesday primary, in a bid to avoid a loss in the general election come November against Sen. Joe Manchin, D-W.Va.
Morrisey and Jenkins have also stepped up their attacks on Blankenship amid signs he could be competitive in Tuesday's election. Blankenship is a former coal industry executive who served a year in prison on a misdemeanor conviction for conspiring to violate mine safety laws, in connection with the Upper Big Branch Mine explosion in West Virginia in 2010 that killed 29 workers.
Blankenship's parole is set to end on Wednesday—the day after West Virginians cast their ballots.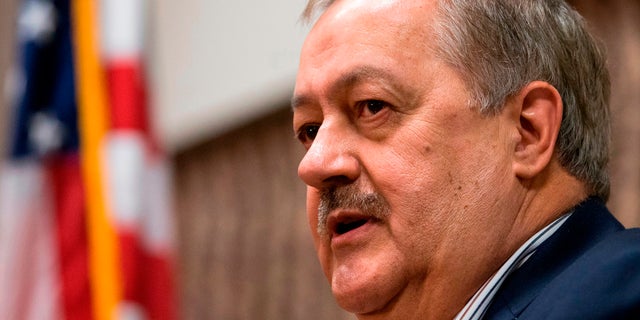 Over the weekend, though, Morrisey laid out a plan to have Blankenship disqualified from the race for failing to submit a financial disclosure—a violation of election law.
"My campaign will be informing his probation officer in Nevada about this issue right away, to determine if this refusal to comply with federal law violates the terms of his supervised release," Morrisey said. "West Virginians don't need a candidate who may not even be able to campaign in the state against Joe Manchin."
Blankenship's campaign said that if he wins the primary, it will release paperwork detailing his finances the following week. Blankenship also responded early Monday to Trump's tweet, voicing confidence that "we're still going to win" and saying the president must not understand West Virginia politics.
"Neither of my opponents can beat Joe Manchin without my support, but I will beat Joe Manchin even without the support of the establishment," he vowed. "... Tomorrow, West Virginia will send the swamp a message—no one, and I mean no one, will tell us how to vote. As some have said, I am Trumpier than Trump and this morning proves it."
Morissey, meanwhile, has started using "robo-calls" to potential voters saying: "Convicted criminal Don Blankenship didn't vote for President Trump and is a resident of Nevada, where he must report to his parole officer."
Blankenship has campaigned as an outsider against the Washington establishment. But top Republicans see similarities to GOP candidate Roy Moore, who lost the Alabama special election race amid allegations of sexual misconduct, ultimately flipping the seat blue for the first time in decades.
Blankenship has also been accused of running racially charged ads in recent weeks. The president's eldest son, Donald Trump Jr., came out against Blankenship just days ago, citing the Moore example.
"I hate to lose. So I'm gonna go out on a limb here and ask the people of West Virginia to make a wise decision and reject Blankenship! No more fumbles like Alabama. We need to win in November. #wv #wvpol," Trump Jr. tweeted.
Blankenship also has taken direct aim at Senate Majority Leader Mitch McConnell, R-Ky. -- another move from Moore's playbook. The candidate has called McConnell "Cocaine Mitch" and attempted to link the leader to a 2014 report about drugs purportedly found on a ship owned by his in-laws.
Blankenship has accused McConnell of creating jobs for "Chinapeople" and said his "China family" has given him millions of dollars. McConnell's wife, Transportation Secretary Elaine Chao, was born in Taiwan. Her father, entrepreneur and philanthropist James S.C. Chao, was born in China.
In addition to West Virginia, North Carolina, Ohio and Indiana will hold primary elections Tuesday ahead of the midterms. Trump won each of the four states in the 2016 presidential race.
Fox News' Joseph Weber and Peter Doocy contributed to this report.