Trump campaign drama: Book reveals Manafort clashes, Trump superstitions, epic tirades
A staff running on McDonald's, Red Bull and Oreos; "Rocket Man" and "Tiny Dancer" blasting through the Trump Force One speakers; profanity-laced tirades; a "superstitious" candidate who never sleeps – that was the 2016 Trump campaign, according to top ex-aides who have lifted the curtain on "the ride of a lifetime."
In their book set for release on Tuesday, former Trump campaign manager Corey Lewandowksi and deputy campaign manager David Bossie speak fondly of their former boss but give a warts-and-all view of day-to-day operations inside the campaign.
"Loyalty and unvarnished truth can coexist," they write. "In fact, one doesn't survive without the other."
Fox News obtained an early copy of nearly 300-page book, "Let Trump Be Trump." It is the account of two Trump loyalists who explain how a team of outsiders -- and political novices -- launched a campaign that would achieve one of the biggest upsets in U.S. election history.
It wasn't pretty.
The book acknowledges Trump's campaign staff did not have much political experience — one chapter is titled "The Island of Misfit Toys."
MCDONALDS, KFC AND OREOS FROM UNOPENED PACKAGES: TRUMP'S FAST-FOOD HABITS REVEALED
Lewandowski and Bossie recall an encounter with then-campaign press secretary and now-White House Communications Director Hope Hicks, who they said had "about as much experience as a coffee cup."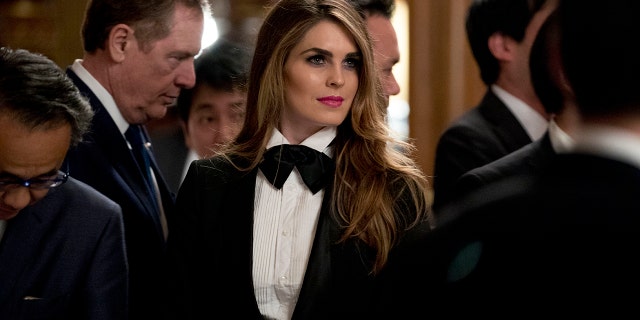 "Hope had so little knowledge of politics then that when Corey told her he had worked for the Kochs she asked if he knew Danny Masters. 'He's worked for Coke for a while,' she said," one passage reads.
The authors also provide additional details about what makes Trump tick – that "nothing makes the boss angrier than when someone embarrasses his children" and that he is "one of the most superstitious men that most people have ever met." The book says Trump sometimes throws "salt over his shoulder before he eats" and believes that people with "low energy" may "carry bad luck."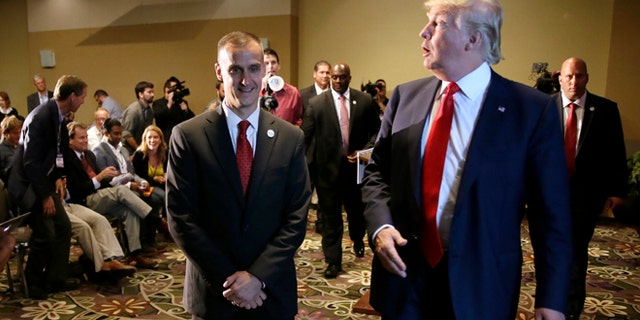 But one of the most dramatic sections of the book focuses on the first encounters between Trump and future campaign chairman and manager Paul Manafort (who has since been charged in connection with the Russia investigation).
"Wow, you're a good-looking guy," Trump said, ahead of bringing Manafort onto his team as a delegate-wrangler for the Republican National Convention.
The first Trump-Manafort meeting was set to be private, but Lewandowski recalls fielding reporter questions the following morning.
"Corey knew from that moment on that Manafort was a leaker," the book reads. "Corey could also tell good people from bad, and he could tell right away that Paul was a bad guy."
Lewandowski, who had guided Trump through most of his primary election victories, was ousted as campaign manager ahead of the Republican National Convention in Cleveland, Ohio in July 2016.
"During that first dinner at Mar-a-Lago, I thought Manafort was the cavalry coming to help. I didn't think he was coming to stick a shiv in my back – but that's what dishonest people do," Lewandowski writes.
Manafort wanted to shift the campaign's message, and "show them the real Donald Trump" moving forward. Manafort planned to do all of the television appearances for the campaign – a strategy that didn't quite appeal to Trump.
"'Paul said he doesn't want you on TV,'" Hicks told the president while flying on his plane, according to the book.
"Mr. Trump goes f---ing ballistic. We're over the metropolitan area, so you can get cell service if you fly at a low altitude," the authors write.
"'Lower it!'" Trump yelled to the pilot, according to their account. "'I have to make a call.'"
Lewandowksi and Bossie write of a profanity-laden call Trump made to Manafort.
"'I'll go on TV anytime I goddamn f---ing want and you won't say another f---ing word about me! Tone it down? I wanna turn it up! I don't wanna tone anything down," Trump allegedly yelled. "'I played along with your delegate charts, but I have had enough.'"
This apparently was not the only time Trump berated Manafort.
Lewandowski and Bossie recall another meeting at Trump's golf course in Bedminster, N.J., when he met Manafort, former White House chief strategist Steve Bannon and other top aides for debate prep in August 2016.
The authors describe Manafort as wearing "boat shoes, white capri pants with string ties, and a blue blazer complete with a crest on the breast pocket."
"'You think I'm a baby, Paul?' the boss began. [Rudy] Giuliani and Bannon both tried to calm Trump down to no avail. 'Am I a baby, Paul? You think you're so f---ing smart! Like you're a genius!" Trump apparently said. "'Well, you suck on TV.' By the time the boss finished, Manafort looked like a crushed blue beer can. Even Bannon felt sorry for him."
Perhaps the most timely section of that drama refers to an August 2016 encounter between Manafort and Bannon, when the former Breitbart chief visited him at his Trump Tower apartment to share details of a New York Times report revealing a $12.7 million payment from Ukraine.
Manafort, who had a woman lounging on his couch wearing a "white muumuu," reportedly said the report was "'all lies.'"
The story published the following day revealed details that Manafort and his deputy Rick Gates "never disclosed their work as foreign agents as required under federal law."
Lewandowski and Bossie recall Trump saying "'I've got a crook running my campaign,'" and further recall Trump requesting "Jared" [Kushner] fire him.
The book foreshadowed the current state of play for both Manafort and Gates, who were among the first charged in Special Counsel Robert Mueller's probe into Russian election meddling and potential collusion with Trump campaign officials during the 2016 election. They have pleaded not guilty.
Lewandowski writes that the day Manafort became campaign chairman "has to be one of the worst of his life."
"Because now the spotlight is directly on him," Lewandowski writes. "And Paul never looked good under the lights – I think it's all the Botox."